STX Dalian Restarted as Hengli Receives First Independent Orders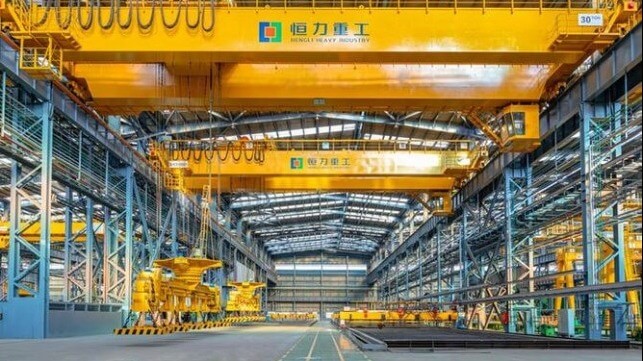 The shortage of building slots at the major shipyards which have allocated their capacity for years to come is giving rise to a broader range of shipbuilders. As the latest example, the former STX Dalian shipyard which was acquired less than a year ago by Hengli Group, reports it has received its first mainstream shipbuilding contract since the relaunch of the long-dormant facility.
The order for four 82,000 dwt bulk carriers was reportedly signed at the end of last week between Hengli Shipbuilding (Dalian) Co., a subsidiary of Hengli Heavy Industry Group, and Haixing Shipping Co. also of China. Shipyard officials hailed it as the next step in the recovery of what had once been one of the largest shipbuilding yards in the world and their official entered the ranks of mainstream bulk carrier construction.
The order is the first the yard has received from an independent shipowner and comes after a smaller order last November from the shipyard's parent company. The first order was for four 20,000 dwt bulkers and construction began in January at the shipyard in Dalian.
Hengli is referred to the new ships that were ordered as mainstream bulk carriers and they will be working with the Shanghai Ship Research and Design Institute on the development of the design. The series of bulk carriers will have a length of 751 feet, a molded width of 106 feet, and a design draft of 40 feet. They will operate at a speed of 14 knots.
These orders are the next step in the rehabilitation of the yard which has been closed since 2015 but which Hengli is investing to restore full operations. The yard, opened in 2006, at its peak employed a reported 30,000 people. When the operations are restored Hengli says they will have the capacity to deliver 40 ships a year totaling up to approximately one million tons.
Hengli Heavy Industry was established in July 2022 acquiring the assets of STX Dalian for a reported cost of over $300 million. The facility includes a 1,500-foot dry dock and four 3,000-foot berths for the construction operations. The company reported that it plans to focus the operations on green shipbuilding technologies and last November entered into an agreement with China Classification Society (CCS) with the yard reporting it will focus its work scope on six major areas, including shipbuilding, offshore, main engines, equipment manufacturing, precision casting, and green building materials.
The efforts at relaunching the operation come as the shipbuilding industry is under pressure with orders falling dramatically year-over-year. Clarkson's data showed a more than 60 percent decline in orders year-over-year last month and a more than 40 percent decline month-over-month. China however continues to gain market share receiving 70 percent of all orders in April 2023. Hengli reports with these orders it has grown its total to 10 ships.