Study: Jones Act Has No Impact on Puerto Rican Consumers
A new report commissioned by the American Maritime Partnership has concluded that the cabotage rules of the Jones Act have no impact on retail prices or the cost of living in Puerto Rico.
In a study sponsored by AMP, management consulting firm Reeve & Associates and economic analysts Estudios Técnicos, Inc. (ETI) analyzed the Act's impact on Puerto Rico's economy and cost of living. The researchers evaluated the competitiveness of freight rates in the U.S. mainland-to-Puerto Rico market with those in neighboring Caribbean markets, the quality of service provided, and the impact these factors have on the price of goods shipped to Puerto Rico from the mainland.
To determine the retail price differential between the U.S. and Puerto Rico, which gets three quarters of its containerized cargo via Jones Act liner services, the authors compared the prices of 13 items at Walmart stores in San Juan and Jacksonville. The survey found either no price differential or a lower price at the Puerto Rican stores.
According to the authors, ocean freight costs amount to just a few cents on the dollar for retail products in Puerto Rico. In addition, Jones Act freight rates for shipments between the mainland and Puerto Rico are similar or lower than rates for foreign-flag shipping between the U.S. and the U.S. Virgin Islands, Haiti, and the Dominican Republic. (The USVI is also an American territory, but it is exempt from the Jones Act's requirements.) Since the cost of ocean freight makes up a small percentage of a given product's retail price, and freight prices are the same or more in comparable foreign-flag markets, the Jones Act has no impact on Puerto Rican consumers, the authors conclude.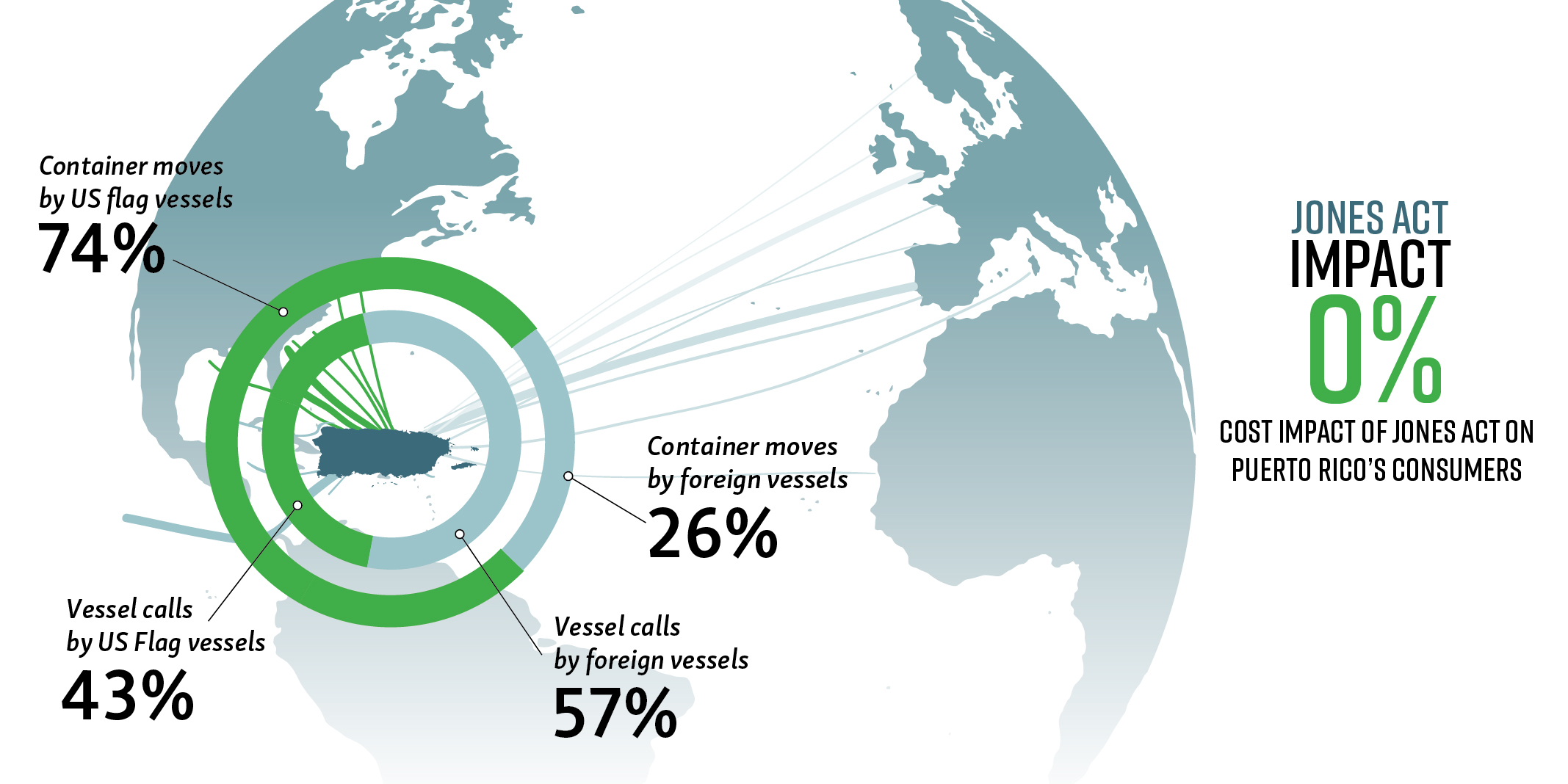 Infographic courtesy AMP
The study also noted the speed-to-market and service benefits of the "closed loop" Jones Act liner services, which bypass the Dominican Republic, Haiti and the Bahamas on their way to and from Puerto Rico. In addition, the authors note that northbound cargo volumes from Puerto Rico are very light, meaning that Puerto Rican manufacturers and other shippers benefit from low northbound shipping rates.
A previous GAO study conducted in 2013 found that it was difficult to determine the Jones Act's impact on Puerto Rican freight rates, given the challenge of separating out other factors.