Truckers and rail workers in South Korea have launched simultaneous strikes, raising difficulties for ports already challenged by container overcrowding from the Hanjin Shipping crisis.
The Cargo Truckers Solidarity (CTS, or TruckSol) union launched a general strike Monday against a government proposal to deregulate the number of small trucks used for home deliveries, and are demanding the introduction of "standard rates" for trucking services. Korea Bizwire reports that the strike has removed a third of the container trucking capacity available at Busan, South Korea's largest port.
The two Hanjin terminals at Busan are nearing maximum capacity, Bizwire says, at about 80 percent – the point where excess numbers begin to impede operations. Other terminals may face the same difficulties soon, especially since the strike has taken out part of Busan's inter-terminal transfer service for transshipments.
While Busan has been affected, Korea Herald reported that the trucker strike was not having a widespread impact across the nation due to a low participation rate. In addition, the deployment of police, military transport vehicles and non-union trucks has blunted the labor action's impact.
"The government will sternly deal with this strike in accordance with the law and its principle," said Transport Minister Kang Ho-in in a statement Monday.
The international Transport Worker's Union accused the Korean government of a heavy-handed response to the strike. "It is unacceptable that the South Korean government is responding to the legitimate demands of workers with intimidation, violence and arrests," said Tony Sheldon, the International Transport Workers' Federation's road transport chair. The union said that the arrests and injuries occurred after thousands of police surrounded a union rally in front of the Busan New Port; further, it said that the government has threatened strikers with reprisals, including license suspensions and criminal charges.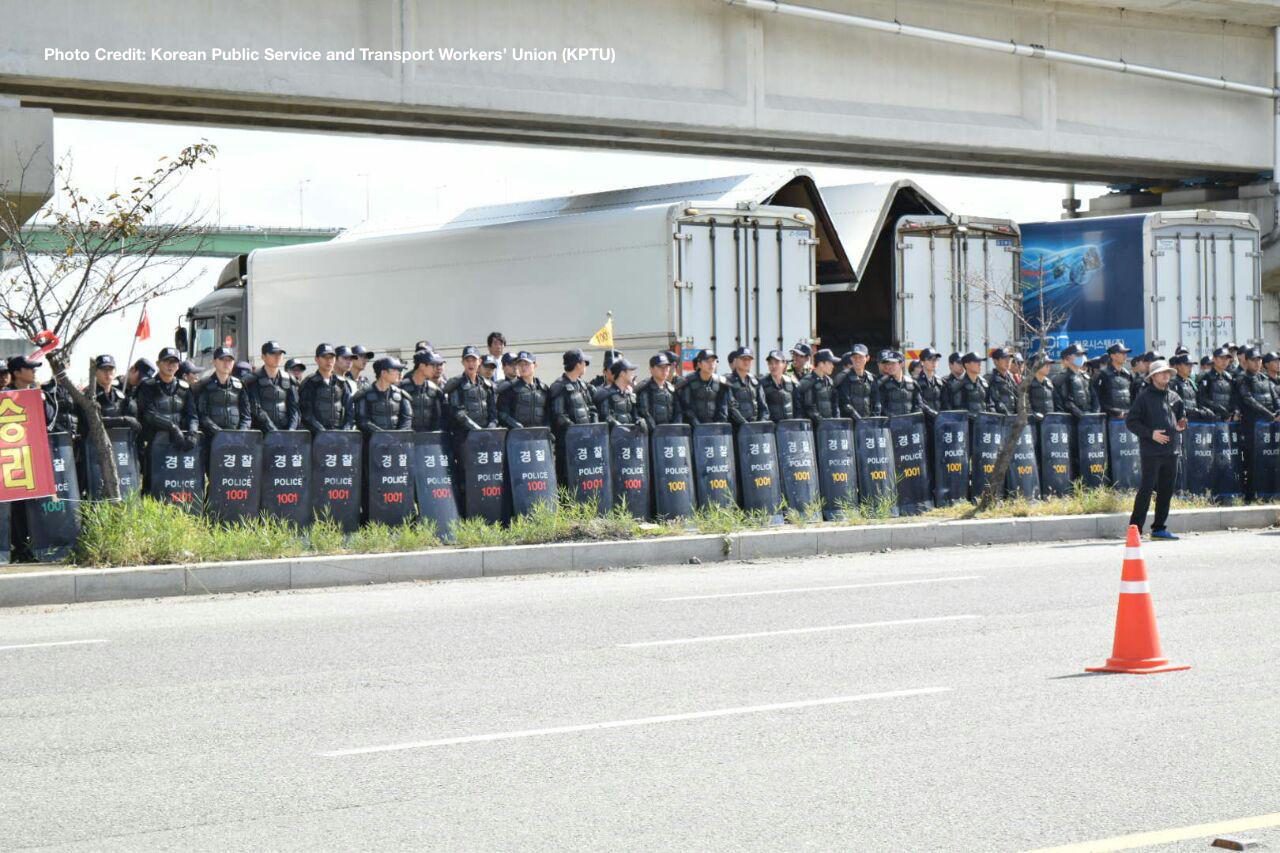 Strikers and police at Busan

The rail strike, now entering its third week, has taken out about half of the nation's freight train capacity. The Korea Herald estimated that over 7,000 members of the rail union are participating, about 40 percent, including workers on Seoul's subway system.
Korea Railroad Corporation is reported to be using emergency staff to operate container freight services in an attempt to alleviate the port congestion.
The labor dispute comes amidst other bad news for Korean port activity. South Korea's export volume shrank at six percent year on year in September, due mainly to another ongoing strike at automaker Hyundai Motor and a multi-billion-dollar recall on Samsung's new Galaxy Note 7 smartphone – in addition to the logistics problems stemming from the collapse of Hanjin.