Tropical Storm Harvey continues to batter the Texas coastline, and a combination of storm surge and unprecedented rainfall is flooding wide swaths of southeastern Texas and southwestern Louisiana. The storm is expected to make a second landfall east of Galveston by Wednesday night, and the National Weather Service warned of "relentless torrential rains" through Friday.
The storm system is moving gradually towards Louisiana and will likely deliver another six to twelve inches of rainfall before it leaves the region. However, the weather forecast for the hard-hit city of Houston is improving as the system moves to the northeast.
The death toll from the storm has risen to 30 people, including one Houston police officer. In an update on Tuesday, Houston Police Chief Art Acevedo warned that officials expect casualty numbers to rise once the floodwaters subside and recovery efforts begin.
These are the latest updates on Tropical Storm Harvey as of 1800 CDT on Tuesday:
- President Donald Trump arrived in Corpus Christi to survey the damage, then traveled north to Austin to meet with top state and federal relief officials.
- The U.S. Coast Guard is deploying additional assets to the region as demand for SAR assistance remains high. The service has already rescued over 3,600 people, and it reports that it is receiving over 1,000 calls for assistance every hour. In total, there are 21 USCG helicopters assisting with around-the-clock rescue operations in Houston: seven. "We have pulled assets and resources from across the country to create a sustainable force," said Vice Adm. Karl Schultz, commander, Coast Guard Atlantic Area. "This is a united effort that is still in the early stages and we are focused on the safety of those in the affected area and saving lives."
In addition to the SAR effort, the USCG National Strike Force is assisting with pollution and hazmat assessments related to storm damage.
Coast Guard punt team assisting evacuation efforts in Houston (USCG)
Coast Guard aircrew evacuates an injured flood victim (USCG)
- The U.S. Navy has six helicopters assisting search and rescue efforts in the area, with two more on the way. It is also mobilizing the amphibious assault ships Kearsarge and Oak Hill to provide logistics support for the relief effort.
- The Department of Homeland Security (DHS) has activated a voluntary program for its employees that allows them to support disaster response efforts. Hundreds of these volunteers will join 8,500 federal staff who are already deployed in the region.
- Texas A&M University at Galveston, Texas' maritime college, has closed until further notice due to flooding on the roads in Houston and Galveston. The campus had already pushed back its dorm move-in and class start dates; it did not give a timeline for reopening.
- Citizens and responders have reported isolated instances of looting and gunfire. "If you (criminals) take advantage of people in our community, we will prosecute you to the full extent of the law," warned Houston police chief Art Acevedo.
On Tuesday evening, Houston mayor Sylvester Turner announced a nightly curfew from 10 PM to 5 AM until further notice. "There are too many . . . residents that are out of their homes and they are in shelters and I don't want them to have to worry about someone breaking into their homes or looting," Turner said.
- The city of Galveston's ferry service remains in operation, weather conditions allowing. The ferry at Port Aransas Pass is closed.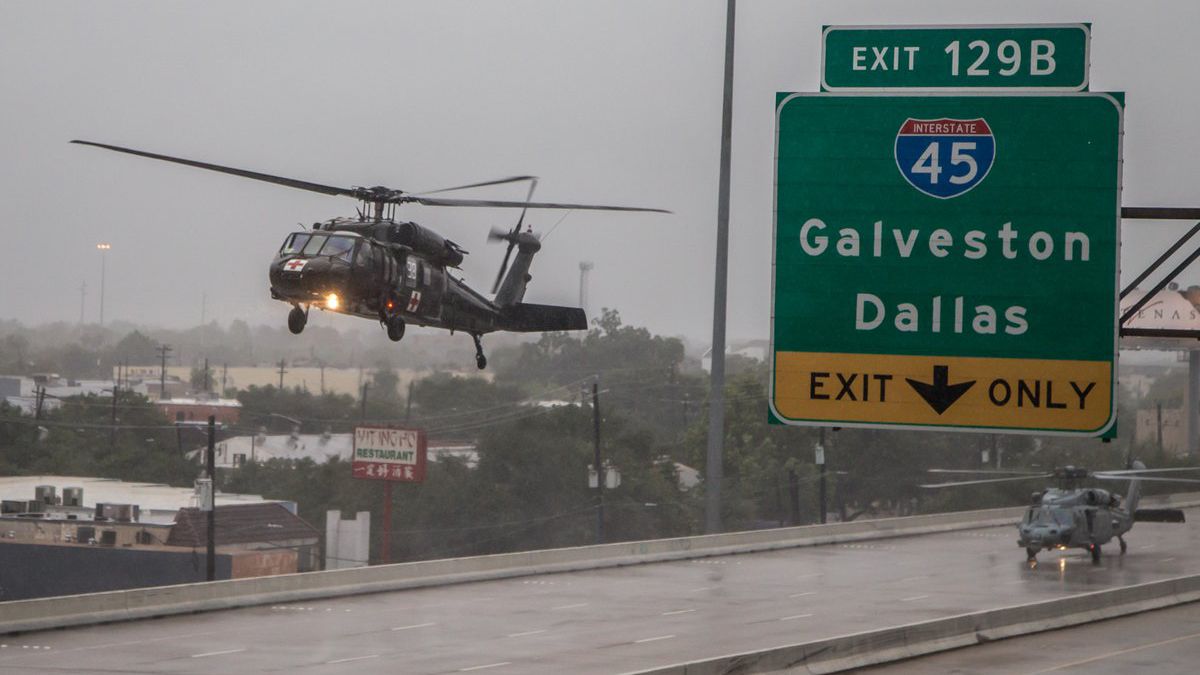 Helicopter aircrews with the 36th Infantry Division prepare to evacuate stranded flood victims (DoD)
Flooding
- The National Weather Service announced a new record for total rainfall from a tropical storm system in the Continental U.S., recorded at a station near Cedar Bayou: 51.88 inches, surpassing the previous record of 48 inches. A hurricane that hit Hawaii in 1950 dropped 52.0 inches – a record that Harvey could surpass in coming days.
- 30 percent of Houston's Harris County is now under water, and the level is still rising in some areas. Edmond Russo, a deputy district engineer for the Army Corps of Engineers, told Fox that the storm has created a once-in-a-millenium flood event. The National Weather Serve described it as an "unprecedented" disaster "beyond anything experienced."
- The Addick Dam, a flood-control spillway upstream of Buffalo Bayou, has begun to overflow for the first time in its history. Engineers have been releasing water from the dam and the adjacent Barker reservoir in order to control the flow, but the water has begun to overtop the Addick spillway despite their efforts. The reservoir's level was rising at six inches per hour on Monday.
The Buffalo Bayou flows through downtown Houston and into the Houston Ship Channel, a busy hub for oil and gas shipping. The release of water from the Addick and the Barker is expected to create additional flooding in nearby suburban neighborhoods.
Our @NASAEarth-observing satellites continue to measure the torrential rains from #Harvey in flood-ravaged Texas: https://t.co/TTDfvnyB6Z pic.twitter.com/03TKn70Xfi

— NASA (@NASA) August 29, 2017
- South of Houston, the levee at Columbia Lakes in Brazoria County has breached, and officials have warned citizens in the flood path to "get out now."
- Extensive flooding in the east Houston suburb of Baytown – a major refining hub – forced the evacuation of residents along Cedar Bayou on Tuesday. Phillips' Cedar Bayou petchem plant is upstream of the affected area, and it has already been closed due to rising waters.
Ports
- The sea state at Galveston's entrance channel remains unfavorable, and the ports of Galveston and Houston remain at Port Condition Zulu (closed to traffic without special permission). Conditions are not expected to change on Wednesday, and Houston port officials did not give a timeline for reopening.
- Port officials at Galveston suggested that the port could reopen as early as the end of this week, contingent on flood conditions in the areas surrounding the port. The National Weather Service has a flood warning in effect for Galveston County until late Tuesday evening.
- The Port of Corpus Christi remains closed to deep draft traffic due to a grounded drillship near Port Aransas.
- The Port of Freeport says that it suffered no damage from the storm and expects to reopen as early as Thursday.
Oil and gas

- 19 percent of oil production and 18 percent of gas production in the Gulf of Mexico are shut in as of Tuesday, down slightly from Monday's total, according to an update from the Department of Energy.
- Six refineries in Corpus Christi and five refineries in Houston/Galveston are shut down. Seven others are operating at reduced rates. Analysts with Tudor Pickering Holt & Co. warned that the storm could take up to 30 percent of America's refining capacity offline if it continues to move eastwards towards the Louisiana border, with implications for gasoline and distillate pricing. For now, Gulf Coast regional petroleum product stocks remain at the high end of the normal range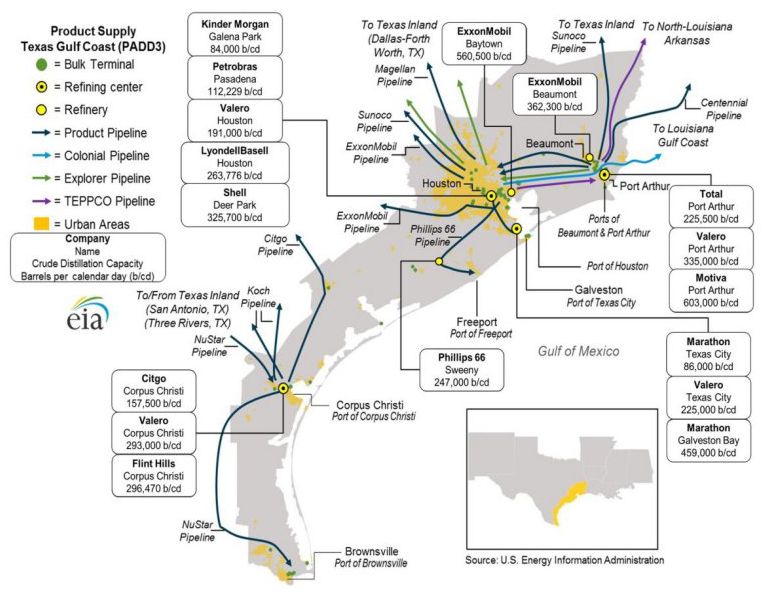 - Shell, Exxon, Dow, Flint Hills, Sweeny, Phillips 66, Valero, and other refinery operators filed dozens of air quality reports related to damage and operational disruptions from the storm. The quantity of VOCs, sulfur dioxide, carbon monoxide and other substances released totaled in excess of one million pounds. Most of the events were related to flaring and to rain damage to petroleum tank roofs.
Donations and assistance
Note: the Federal Trade Commission warns donors to evaluate newly formed relief organizations before giving, as scams are common in the wake of a major disaster.
- The Red Cross is accepting donations earmarked for Tropical Storm Harvey relief. To donate, visit https://www.redcross.org/donate/donation and specify "Hurricane Harvey" in the dropdown menu.
- The Salvation Army is also accepting earmarked donations for storm relief. To donate, click here.
- Blood transfusion association AABB called on Americans in all states to donate blood to help boost the national supply. The storm has disrupted the normal pace of blood drives throughout the affected area, and making a donation of blood in any state will help offset a potential shortfall in Texas. For more information, click here.
- FEMA has called for volunteers to assist with the massive relief effort. To sign up, visit National Volunteer Organizations Active in Disaster (NVOAD) at https://www.nvoad.org/how-to-help/volunteering/
- Local boaters can help rescue stranded flood victims by volunteering with the "Texas Navy" or "Cajun Navy." To find out more, visit https://www.facebook.com/TexasNavy/ or https://www.facebook.com/LaCajunNavy/.
- USA.gov asks citizens not to "just show up," but to join the effort by volunteering with a formal aid organization.