SS United States Saved, Perhaps to Sail Once More
Crystal Cruises has announced a plan to take over the maintenance costs of the storied ocean liner SS United States, once "America's Flagship," with the intention of conducting a nine-month feasibility study of a refit for seagoing service.
She was previously owned and maintained by Philadelphia's S.S. United States Conservancy, which purchased her from NCL in 2011 when the line considered sale and scrapping. The Conservancy itself came close to scrapping the ship late last year, as it struggled to raise the $60,000 a month to keep her docked and mothballed. At the time, the organization's hope was to continue her preservation while working with a developer to turn her into a floating mixed-use facility in New York City.
The United States still holds the record for fastest round trip transatlantic crossing (also known as the Blue Riband), set on her maiden voyage in 1952. Her eastbound and westbound averages were in the range of 35 knots thanks to four steam turbines totaling to 240,000 shp. Despite her extraordinary specifications, she was retired from service in 1969 as airlines replaced transatlantic liners. Previous plans for her revival have all been canceled or deferred, and she has rusted at dock for nearly fifty years.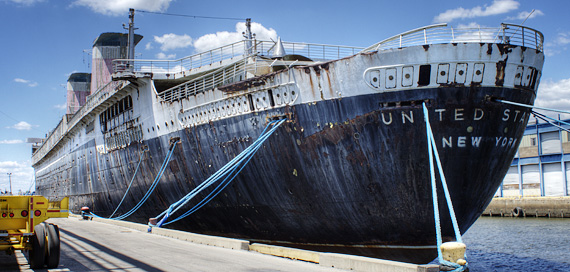 "The prospect of the ship's return to seagoing service was a dream we'd basically given up on because of the technological challenges," said Susan L. Gibbs, executive director of the Conservancy, speaking to the New York Times.
Crystal Cruises stepped in to save the ship and to consider the vast undertaking of refitting her for service. "The prospect of revitalizing the SS United States and reestablishing her as 'America's Flagship' once again is a thrilling one. It will be a very challenging undertaking, but we are determined to apply the dedication and innovation that has always been the ship's hallmark," said Crystal President and CEO Edie Rodriguez. "We are honored to work with the SS United States Conservancy and government agencies in exploring the technical feasibility study so we can ultimately embark on the journey of transforming her into a sophisticated luxury cruise liner for the modern era."
There may be business advantages to the deal, too. Rodriguez forecast the cost of refurbishment at $700 to $800 million, potentially less than a newbuild due to reuse of a pre-existing hull. In addition to the possibility of cost savings, the vessel would be eligible for inclusion in the U.S.-flagged, Jones Act fleet due to her construction at an American yard, a regulatory advantage permitting unlimited operation between U.S. domestic ports.
Crystal has hired a high-level former Coast Guard official, retired USCG Rear Admiral Tim Sullivan, to smooth the project's passage through the sixty years' worth of technical, legal and regulatory requirements implemented since the United States' construction. "Tim's integrity and leadership will help ensure the feasibility study is conducted with appropriately wide consultation, and rigorous adherence to both safety and environmental awareness," said Rodriguez.
Among the challenges facing the renovation project are the removal of PCB-laden equipment from her engineering spaces, which may face scrutiny from environmental regulators, and the replacement of her steam turbines with a modern propulsion system. Rodriguez described compliance as the biggest potential hurdle to the United States' refurbishment: responding to a question from the Times, she used an analogy of ballooning costs in home renovation "because you couldn't get permits, because of the foundation," describing such an outcome as a stopping point for the proposed refit program.
One regulatory problem may already have been solved by previous owners. A controversial asbestos abatement program was completed at a Ukrainian yard in the 1990s, clearing a potentially expensive compliance and safety problem. The ship was built to Navy fireproofing standards of the period, to allow military use as a troop transport if needed, and she contained significant quantities of asbestos-laden paneling and other materials. The abatement program left her aluminum superstructure bare, a blank slate for future endeavors.
First-class ballroom post-abatement (image courtesy Peter Knego)