Sri Lanka's Disputed Government Signs Two Chinese Port Deals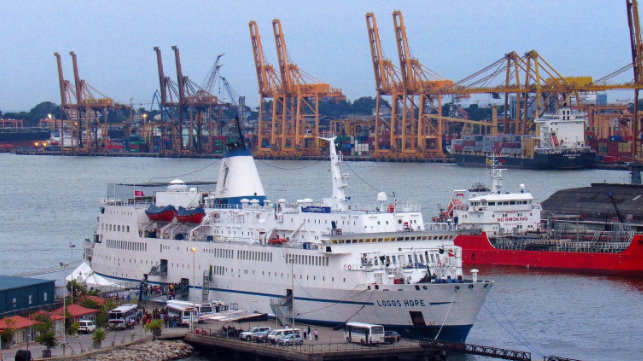 In October, Sri Lankan President Maithripala Sirisena dismissed the nation's sitting prime minister and installed ex-president Mahinda Rajapaksa in the post. Rajapaksa is the former leader who borrowed Chinese funds to build the port of Hambantota, an underperforming facility which has since been leased to a Chinese firm to satisfy debt obligations.
The ousted prime minister, Ranil Wickremesinghe, controls a majority in Sri Lanka's parliament, which has the constitutional authority to dissolve the cabinet and remove the prime minister. The body has voted twice to order Rajapaksa to step down, but he has declined, creating a constitutional crisis.
On Thursday, Rajapaksa's disputed government signed two new contracts with Chinese firms for ports projects. The deals - first reported by Reuters - include $30 million for China Harbour Engineering Company (CHEC) for berth improvements at Colombo's Jaya Container Terminal, and $26 million for Shanghai Zhenhua Heavy Industries for three cranes for the same facility.
CHEC is the same state-owned firm that built the port of Hambantota. According to an investigation by the New York Times, CHEC also provided more than $7 million in covert financial support for Rajapaksa's unsuccessful 2015 re-election campaign; most of the funds allegedly came from an account designated for the Hambantota Port Development Project. CHEC denies any involvement in Sri Lanka's internal affairs.
Wickremesinghe's former cabinet spokesperson, Rajitha Senaratne, told Reuters Thursday that Rajapaksa's government does not have the legal authority to approve new contracts. The parliament voted Thursday to cut off all spending decisions by Rajapaksa's cabinet, casting doubt upon the ability of the current government to follow through on the new agreements with CHEC and Shanghai Zhenhua.
The political turmoil occurs against a backdrop of Indian-Chinese competition for influence in the Indian Ocean. Before his removal, Wickremesinghe had supported a joint Indian-Japanese proposal for a new $1 billion container terminal at the port of Colombo. President Sirisena is said to oppose further foreign investment due to Sri Lanka's already-large debt burden.
Moody's recently downgraded Sri Lanka's sovereign debt rating to B2, a speculative grade "subject to high credit risk," due to the nation's large external debt repayments and the ongoing political crisis.