Spanish Hydrographic Survey Ship Runs Aground off Ibiza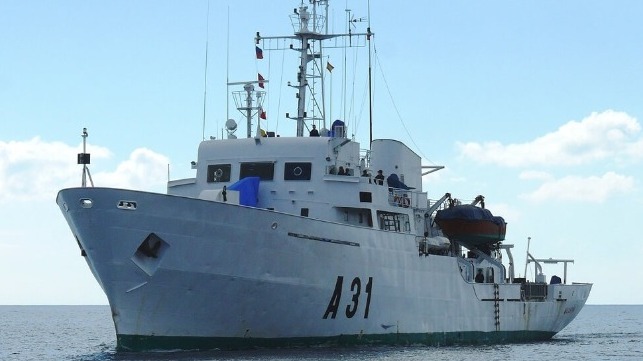 Mariners have an old warning that "any ship can be a survey ship once" if it contacts the bottom with its hull, and in the case of the Spanish Navy survey ship Malaspina, this familiar chestnut is doubly true. Malaspina was tasked with mapping the seabed off the coast of Ibiza this week when she ran aground in shallows.
The vessel suffered no damage in the grounding, the Spanish Navy said in a statement, and no one was injured. The ship has since been refloated and is under way in the Mediterranean, off Ibiza's west coast.
Malaspina was built by Bazán Shipyards and delivered to the Spanish Navy in 1975. She was upgraded with new sensors and equipment in 2007, extending her life and her hydrographic mapping capabilities. Since commissioning, the Malaspina has sailed more than 180,000 miles.
As she and her sister ships approach retirement, the Spanish Navy is making plans to buy two replacement vessels at a cost of about $170 million. Navantia has been contracted to construct the replacements.
Malaspina is named after Alejandro Malaspina (1754-1809), an Italian-born Spanish Navy commander who sailed around the world aboard the corvettes Atrevida and Descubierta. Malaspina is perhaps best known for his attempt to find the Northwest Passage from the Pacific side; he sailed north from Mexico as far as Yakutat Bay in present-day Alaska and made contact with the Klingit tribe before returning south. The survey ship Malaspina is the second ship in the Spanish fleet to bear the name; the State of Alaska and BC Ferries have also named vessels after Malaspina, reflecting the explorer's historic voyage to the Pacific Northwest.