Spain Fines Tanker for STS Transfer With Ex-Russian Ship Off Ceuta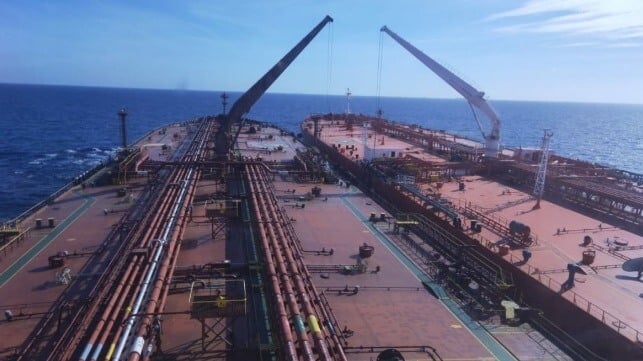 The government of Spain has levied a fine of $130,000 against the owners of the Vietnamese tanker Elephant, which was caught conducting an "unauthorized" STS transfer with a sanctioned Russian vessel in international waters off Ceuta.
The sanctioned tanker Nobel and the Elephant rendezvoused in the busy STS transfer zone off Ceuta on February 5, according to AIS data provided by Pole Star. After this interaction, Elephant transferred her cargo to the tanker Maersk Magellan, which then headed for Tarragona.
Until July 1, 2022, Nobel was the Russian-flagged tanker Neatis, owned by Moscow-based Rusprimeexport LLC; after the invasion of Ukraine, she was sold to a holding company in the Seychelles, renamed, and reflagged in Cameroon. Under EU sanctions, any vessel that flew the Russian flag after February 24, 2022 is not allowed to deliver cargo in EU waters.
Maersk Magellan was prohibited from unloading the cargo, and she ultimately left Spain in laden condition.
Spanish authorities detained Elephant a few weeks later at the port of Ferrol. In an inspection, they found multiple deficiencies, including failure to notify the Spanish maritime administration of the STS transfer.
The Elephant's owner paid a bond in order to secure the tanker's release, and the vessel carried on its way. That bond has now been converted into a paid fine, Spanish transport agency MITMA said Friday.
In a statement, MITMA emphasized that it has never authorized hydrocarbon transshipment operations to be carried out in the "Spanish maritime space outside the zones of port service," a geospatial category not recognized under international law. Spain has appealed to IMO to grant coastal states more authority to regulate STS transfers in nearby international waters.