Video: SpaceX Launches Recovery Mission After Rocket Crash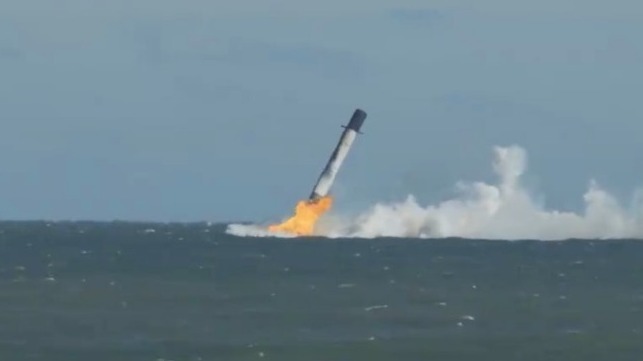 The U.S. Coast Guard issued a safety broadcast on Wednesday after a SpaceX Falcon 9 rocket landed in the water off the coast of Cape Canaveral. SpaceX has lost rockets before, but it was its first crash landing for a booster returning to the shorebased launch site.
The booster rocket was returning from a resupply mission for the International Space Station, and SpaceX's Dragon spacecraft payload continued on towards the ISS without incident after booster separation. The Dragon resupply module is scheduled to rendezvous with the station on Saturday.
The booster's crash was relatively controlled, with the rocket settling down under power, then listing over. According to SpaceX CEO Elon Musk, a hydraulic pump for one of the booster's control surfaces likely failed during the return to earth. "Engines stabilized rocket spin just in time, enabling an intact landing in water! Ships en route to rescue Falcon," said Musk in a Twitter update. "Appears to be undamaged & is transmitting data."
Tracking shot of Falcon water landing pic.twitter.com/6Hv2aZhLjM

— Elon Musk (@elonmusk) December 5, 2018
According to the Coast Guard there are no reports of pollution. As a precautionary measure, USCG Station Port Canaveral dispatched a boat crew to the scene to stand by and monitor while SpaceX implements its response plan.
Though Wednesday's mission involved a return flight to shore, many of SpaceX's previous launches have ended with a booster landing at sea aboard a specially-fitted, unmanned recovery barge. The unique vessel is based at nearby Port Canaveral, and its large deck has accommodated multiple rocket landings since the first successful trial in 2016. After recovery, each rocket is brought back to port for evaluation, refitting and potential reuse - significantly lowering the cost per launch.