Somalia Wants More Help from NATO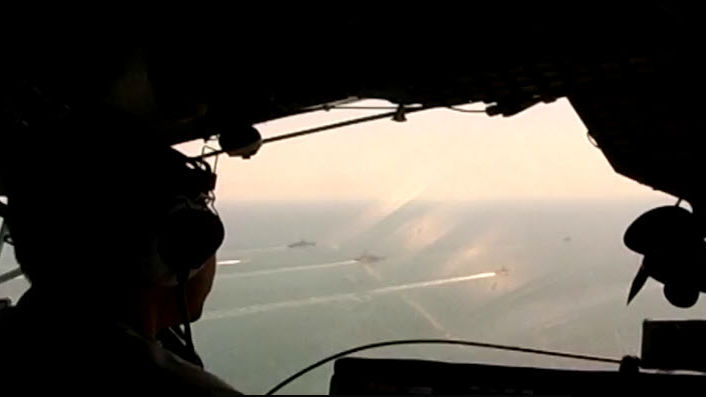 On Sunday, Somali officials said that NATO must do more to prevent the illegal fishing that sparked the latest pirate hijacking.
Last Monday's hijacking of the tanker Aris 13 with eight crew on board was the first time that Somali pirates had successfully hijacked a commercial ship since 2012.
The pirates claimed to be fishermen and released the tanker without receiving a ransom payment.
Some Somali fishermen, including ex-pirates, have complained of harassment by illegal foreign trawlers. Officials from Puntland have warned that more hijackings could occur if the problem isn't tackled.
"We requested NATO warships to tackle the illegal fishing, but they replied it was not their mandate," Abdihakim Abdullahi Omar, the vice president of Puntland, told reporters at Bosasso port where the crewmen were released.
"We told them that if they cannot take measures against the illegal fishing vessels who come under their cover and those who pour wastes into our waters, then their presence is a burden rather than a benefit."
However, Joshua Tallis, a Research Analyst at CNA Corporation, a nonprofit research and analysis organization, told the Sri Lanka Guardian that fishing has not traditionally been a major part of Somali culture or economics, nor were most pirates former fishermen. "That does not excuse the devastation of toxic dumping and IUU fishing, only its ability to causally explain piracy," he said.
NATO ended its Indian Ocean counter-piracy mission Ocean Shield last November after a sharp fall in attacks, shifting resources to deterring Russia in the Black Sea and people smugglers in the Mediterranean.
The tanker was en route from Djibouti to the Somali capital, Mogadishu, when she was hijacked with eight Sri Lankan crew members on board.
The pirates said they agreed to free the vessel after learning that Somali businessmen had hired the ship, reports Reuters. Pirates have traditionally been wary of tangling with Somalia's powerful businessmen.
Since 2012, although piracy has been largely contained, Somali pirates have continued to attempt to hijack ships, but less frequently. The most recent reported attempted attack in the region was on the U.K.-flagged product tanker CPO Korea in October 2016.
IMO Secretary-General Kitack Lim has urged the shipping industry to apply diligently IMO guidance and best management practices in the wake of the hijack.