Somali Pirates Protest Quality of Indian Prison Food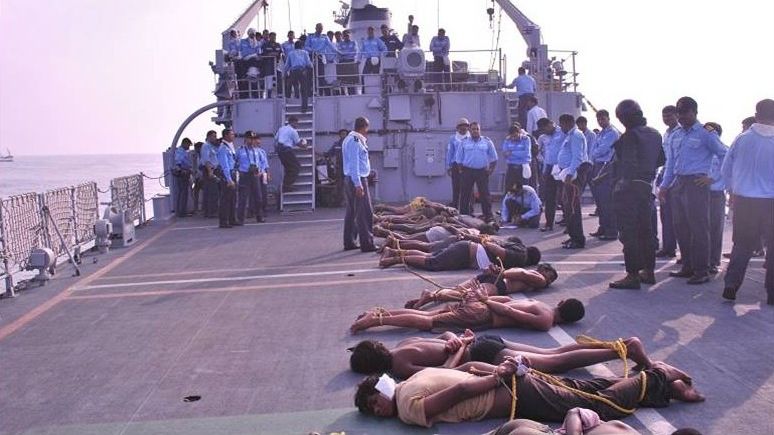 The threat of Somali piracy has risen once again, with a new series of boardings and hijackings in the western Indian Ocean after a five-year lull. But even as another round of attacks begins, the last one is not yet fully resolved: Indian media report that more than 100 pirates who were arrested off the Horn of Africa in 2011 still have cases pending in the Indian judicial system.
On Tuesday, 15 Somali nationals pled guilty to charges of piracy in a court in Mumbai. In statements made through an interpreter, the pirates asked the court for deportation to Somalia or a reduced sentence, as they have been in prison for six years.
The men were captured in January 2011 when the Indian Navy pursued and sank the Thai trawler Prantalay 14. The pirates had hijacked and repurposed the trawler as a mother ship, and had used the vessel (and her crew) to support their criminal enterprise for 10 months. Indian forces arrested a second mother ship, the Prantalay 11, in the same area a few days later. The location of the arrests – the Lakshadweep Islands, about 1,400 nm from the Horn of Africa – was a demonstration of the sweeping range of Somali piracy at its peak.
Bon Jhon Ali, a confessed pirate who learned Hindi during his time in jail, said that there were originally 25 in their complement. Ten died before they could be captured: their vessel caught fire when gunfire ignited fuel drums on the upper deck, and some of the pirates drowned when they were forced to abandon ship.
Ali's main complaint about his time in prison was the quality of the food. "We are used to eating fish but we don't get it in jail. We are unable to digest jail food, we don't like it," he said (as reported by the Free Press Journal and the Indian Express).
Police reports from the time of the arrest suggested that four crewmembers of the Prantalay 14 died from malnutrition and lack of medical treatment during their time in captivity.