Solomon Trader Spill is Moving Towards UNESCO Heritage Site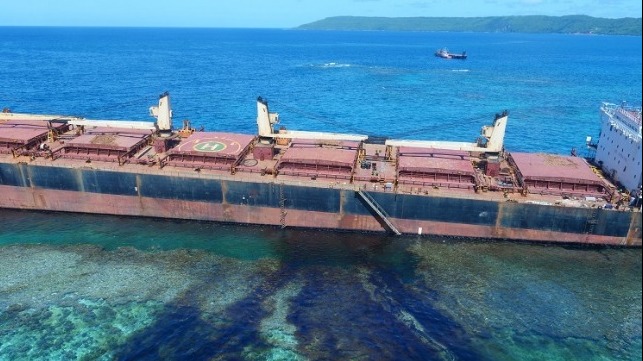 The owner of the wrecked bulker Solomon Trader issued its first public statement about the incident on Wednesday, more than one month after the vessel went aground on a reef in the Solomon Islands. In a joint release with the ship's insurer, Hong Kong-based shipowner King Trader said that it feels "deep remorse" for the vessel casualty, which it described as "totally unacceptable."
The previous day, Australia's Department of Foreign Affairs and Trade criticized King Trader and its insurer for their alleged delay in addressing the accident. "Australia has been profoundly disappointed by the slow response of these companies, and their lack of adequate communications with and responsiveness to the Solomon Islands government," the department wrote in a statement.
The Trader's grounding on Rennell Island, the southernmost island in the Solomons, has resulted in the release of about 100 tonnes of fuel oil into the marine environment and damage to about three miles of reef-covered shoreline. The eastern half of Rennell is the world's largest raised coral atoll, and is a designated UNESCO World Heritage Site; Australian officials say that the spill is now moving towards the protected area's boundary.
The ship has been declared a constructive total loss, according to charterer Bintan Mining. Salvors from the U.S., the UK, Australia and New Zealand are engaged in efforts to mitigate pollution and plan for the vessel's removal. The Australian Maritime Safety Authority is deploying response vessels and personnel to the scene as part of a "targeted, time-limited pollution mitigation and mediation sweep," but the Australian government has emphasized that the responsibility to address the damage lies with the shipowner and its insurer.
Between 700 and 770 tonnes of fuel oil was on board at the time of the grounding, and the task of removing the remaining amount has not yet begun. "There is a high risk the remaining heavy fuel oil on the vessel (currently estimated at over 600 tonnes) will be released into the surrounding area," said the Australian Department of Foreign Affairs and Trade in a statement.
Separately, in its statement Wednesday, King Trader asserted that the Solomon Trader's crew was neither intoxicated nor absent from the ship at the time of the accident. Local witnesses have alleged that at least some members of the crew went ashore to celebrate the Chinese New Year prior to the grounding. The Trader was at anchor at the time of the casualty, and the Solomon Islands Maritime Safety Administration says that it is looking into whether her operator violated the ISM Code due to a "lack of crew posted on lookout / watch during that night."