Clarkson Research's latest orderbook numbers put South Korean yards' backlog at the lowest level seen in 13 years. The Big Three (Hyundai Heavy Industries, Daewoo Shipbuilding & Marine Engineering and Samsung Heavy Industries) posted 24 million cgt of orders as of July 31, their smallest combined orderbook since 2003.
By contrast, Japanese yards were just below, at 22 million cgt, and Chinese shipyards led with 36 million cgt. The worldwide orderbook overall was at its lowest level since early 2005, at just under 100 million cgt. For orders placed in the first half of this year, Japanese yards were ahead of their Korean competitors.
The weak ordering activity has contributed to mounting losses for South Korean shipbuilders. Together, the Big Three lost about $7 billion 2015; troubled Daewoo Shipbuilding and Marine Engineering accounted for the majority of the loss. On Tuesday, Rep. Sim Sang-jung, head of South Korea's Justice Party, said that even that figure represented an underestimate, and that DSME's 2015 losses were $2.8 billion more than previously reported.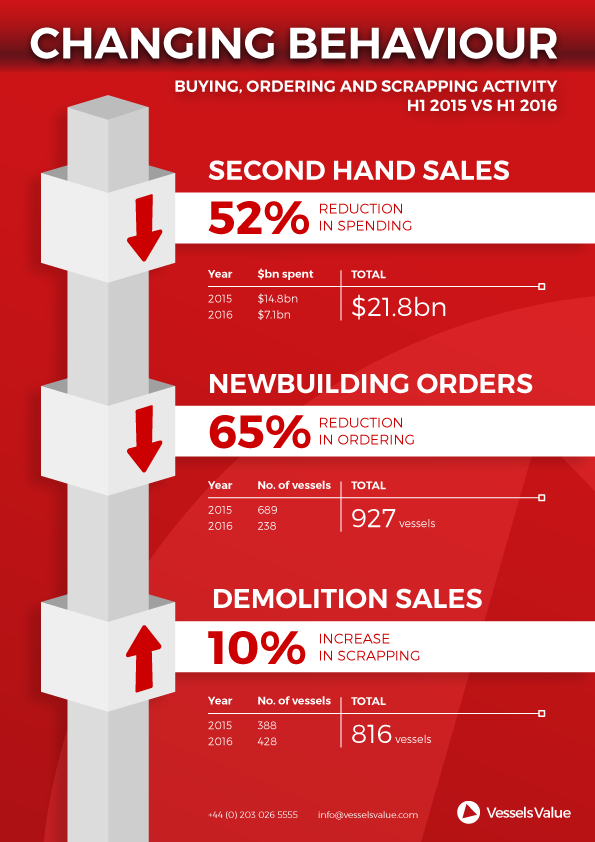 On a positive note, Hyundai Heavy Industries reported Tuesday that it had finalized a contract for the construction of two VLCCs for a Greek shipowner. The deal is valued at $180 million.
Shipbuilders around the world are feeling the pinch of the downturn, which has cut deep into day rates for bulk, liquid and container shipping, as well as the offshore industry. VesselsValue.com recently calculated that ordering for the first half of the year was down by over two thirds compared with activity last year - and that the only marked increase is in scrapping, including the demolition of relatively young vessels. Many formerly busy yards around the world are restructuring or closing, including Hyundai's Onsan offshore yard, the Inhauma and Vard Niteroi shipyards in Rio de Janiero, and numerous examples in China.