Small Cruise Ships Sailing Pacific Coastal Channels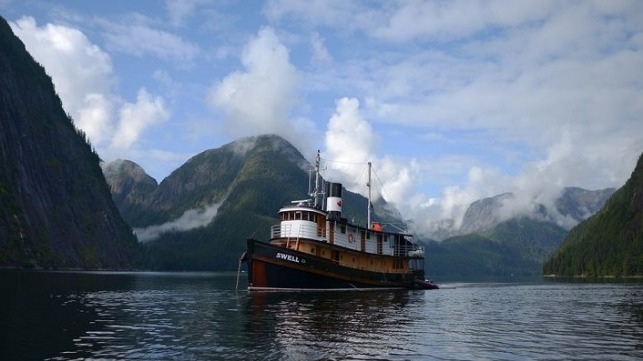 While the cruise ship industry builds larger and more attractive ocean going cruise ships, owners of small cruise vessels have discovered and are developing a market for travelers who seek an alternative maritime cruising experience.
Introduction
While a great multitude of travelers enjoy the amenities and attractions offered aboard the mega-size cruise ships, a market has emerged for the owners of small vessels that offer a very different kind of maritime cruising experience. One coastal region of the world offers several hundred nautical miles of scenic sheltered waterways that attract summer time travelers who sail on both large and small vessels.
The Pacific coast of North America located between 47-degrees N and 58-degrees N extends for almost 1,000-nautical miles between Olympia, Washington State and Skagway, Alaska, where railway and road connections are available to carry visitors to more northern locations. With the exception of an open stretch of 40-nautical miles of open seawater between Bull Harbour and Calvert Island that is exposed to the Pacific Ocean, the remainder of the distance involves sailing through sheltered coastal channels located between multitudes of coastal islands of sufficient depth and width to transit large ferry vessels and cruise ships.
Tourism Intermodal Convenience
The majority of tourists who board the cruise vessels that sail from Seattle and from Vancouver arrive at either Seattle – Tacoma International Airport or at Vancouver International Airport. Both airports are located in very close proximity to the cruise ship terminals. Some cruise ship operators arrange for transportation to shuttle clients between airport and cruise terminal. In Vancouver, the intercity passenger train terminal that carries passengers from Montreal and Toronto as well as the Greyhound intercity bus terminal are both located within close proximity to the Canada Place cruise terminal.
At Seattle, King Street station serves both the Amtrak intercity trains and the Greyhound intercity bus and is located within very close proximity to the cruise ship terminal. Amtrak trains such as the Empire Builder, the Coast Starlight and the Cascades serve Seattle carrying passengers to and from several distant large American cities. The schedules are sufficiently convenient to allow some travelers to combine long-distance multi-day rail travel with a Pacific cruise. The level of intermodal convenience at both Seattle and Vancouver combined with the spectacular scenery along the Pacific channels enhances the cruise industry's market.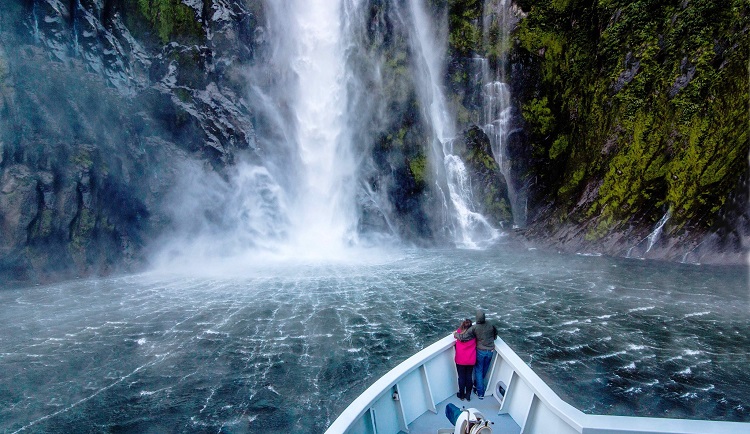 Credit: Maple Leaf Adventures
Small Ship Versus Big Ship
While large cruise ships can berth at quayside at Seattle, small ships of 100-feet length by 35-feet beam, nine-feet draft and 17-feet height above the water line have access to multiple bays, channels and lakes in the Seattle – Olympia – Tacoma metropolitan region. Unlike big cruise ships that have to transit via Strait of Juan de Fuca when sailing between Seattle and Vancouver, small ships can sail via the equivalent of an inland waterway called the Swinomish Channel that links Skagit Bay and Padilla Bay. There are several scenic channels in the Vancouver area.
Small cruise vessels sailing north from Vancouver can sail into scenic inlets and through scenic channels that are off the route of the coastal ferry ships and due to their sheer size, off limits to mega-size cruise ships. The small vessels can turn and turn around where big ships cannot, berth at small marinas and sail into shallower draft channels that are off limits to big cruise ships. Small vessels carry small numbers of travelers to spectacular coastal scenery than big ships and offer travelers a sociable onboard atmosphere.
Oceanic River Cruise
With the exception of a few nautical miles of sea being exposed to the wave action of the open ocean, the calm waters of the Pacific coastal channels between Seattle/Tacoma and Alaskan coastal towns of Juneau and Skagway provide cruise ship travelers with the equivalent of a river cruise. During summer, Pacific coastal winds blow in from the southwest to the northeast and pushing waves diagonally across Dixon Entrance and north of Bull Harbour. The northwestern corners of Graham Island and Vancouver Island along with the Scott Islands deflect most of the incoming waves away from the navigation passage.
By comparison and courtesy of the "bath tub effect" on the Great Lakes, storms can generate larger waves than occur along the sheltered Pacific channels. In response, the Murray Canal was built along the northern side of Lake Ontario to provide smaller vessels with an alternate route that bypasses the eastern region of Lake Ontario where the most energetic waves sometimes occur. The gentler sailing conditions through sheltered navigation passages in the Pacific region and Lake Ontario allow small cruise vessels to carry small numbers of tourists through calm, tranquil and scenic channels.
Pacific Coast Small Cruise Vessels
Compared to a mega-size cruise ship that functions as a mobile holiday resort, small cruise vessels offer a very different cruising experience. While mega-ships sail fixed routes, operators of small vessels are able to offer greater flexibility regarding sailing route and stops at small marinas. Most of the small cruise ships that sail the inside passages north to Alaska from Seattle and Vancouver provide accommodation for fewer than 100-passengers, with the smallest of the vessels being a schooner that employs a four to five-person crew to care for eight passengers housed in four suites.
At present, nine companies operate a combined fleet of 35 small cruise vessels that offer a different vacation experience to that offered aboard the super-size cruise ships. Several of the small vessels carry kayaks, canoes and inflatable craft that can carry guests from either a marina-of-call or anchor point, to locations that offer very unique and spectacular scenery. Several of the guests actually reported to enjoy the experience of helping to paddle or row some of the tiny craft to and from near-shore locations where they can observe coastal wild life such as the spirit bear.
Credit: Maple Leaf Adventures
Aboard Small Vessels
Travelers have described the travel experience aboard a small cruise vessel as being more sedate and more relaxing than the hustle and bustle of large crowds aboard mega-ships. At meal times, a single dining table accommodates all of the small number of passengers who sail aboard some of the small vessels, encouraging a very social environment to develop. Many regard the spectacular scenery along some of the lesser traveled channels as being more spiritually refreshing than casino-style entertainment offered onboard mega- cruise ships. Small cruise ship operators routinely attracted repeat customers.
One of Canada's First Nations aboriginal tribes has developed one of cleanest fish farms in the world that raises a variety of shellfish. Small vessels that stop at small marinas allow guests to visit aboriginal villages and acquire a variety of local culinary delicacies. While many small cruise vessel operators offer organized and pre-planned cruises, other operators offer custom tailored cruises of several hours to several days duration to suit groups of customers. The variety of small vessels that provide such services from Vancouver includes a replica of a pirate ship.
Conclusions
The small cruise ships that carry small numbers of passenger through scenic northwestern American Pacific coastal channels occupy a unique market niche that is distinctly different to that of the big cruise ships that carry tourists in this region. Small vessel offer a very different traveling experience by being able to sail into and out of narrow, shallow channels and stop at small remote marinas that are off limits to mega-size cruise ships. The relatively calm wave conditions that occur in the coastal channels allow safe and comfortable passage to travelers aboard small vessels.