Singapore's First Bunker Tanker with Battery Energy System Delivered
The first hybrid, bunker tanker with a battery energy storage system has been delivered and is set to start operations at Singapore, the world's largest bunker port. The vessel is outfitted with an energy storage system that will permit peak shaving to provide a stable energy load and reduce emissions as part of Singapore's Marine and Port Authorities' efforts to accelerate emissions reduction in harbor craft and other parts of the port's operations.
The 7,990-ton bunker vessel named Marine Charge reached the Singapore Anchorage on April 24 preparing for its deployment. The vessel was built by China's Zhejiang Shenzhou Sunshine Heavy Industry as the first of two bunker vessels ordered in 2021 by Vitol for its V-Bunkers operation based in Singapore. The second vessel, Marine Dynamo, is scheduled for delivery in late May. Both vessels were designed by SeaTech Solutions of Singapore and classed by Bureau Veritas. They are outfitted with 480 Kwh enter storage systems developed by Shift Clean Energy.
"This vessel represents a true demonstration of the change that is becoming normal in the marine industry," said Brent Perry, CEO of Shift Clean Energy. He said that V-Bunkers is "a fuel carrier focused on improving efficiency, cost of operations, and simultaneously demonstrating a commitment to good global citizenship."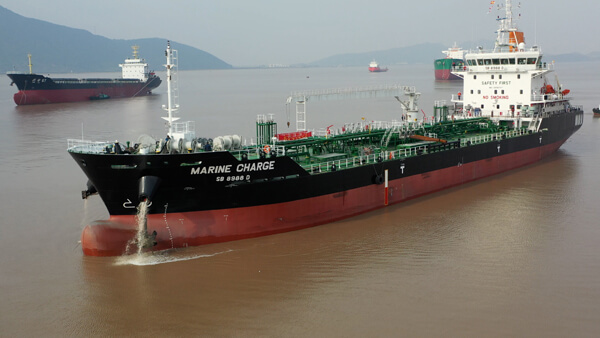 Marine Charge recently completed the delivery trip from China to its homeport in Singapore (V-Bunkers)
The Energy Storage Systems (ESS) technology is comprised of Lithium-ion batteries and a highly automated Power Management System. It is expected to achieve an estimated 10 percent reduction in GHG emissions.
The design configuration of the system enables the auxiliary engines to operate at the most optimal specific fuel oil consumption with the ESS performing peak shaving. During periods of low power consumption, the management system recharges the batteries which provide additional power during high consumption periods. This allows the main generators to operate with a more stable load which contributed to the lower emissions. In addition, the ESS has recharging capabilities, and while onshore power supply is currently unavailable in Singapore, the bunker tankers are ready for when the charging infrastructure and facilities become available. The MPA recently announced that it would be working with Shell, which launched the first battery-powered ferry in Singapore, to expand charging capabilities for other harbor craft.
"We are delighted to be the first to bring ESS technology to the local bunker craft sector and thus contribute to the reduction of emissions in the port of Singapore," said Mike Muller, Head of Vitol Asia. "We shall continue to support Singapore's aspirations, led by the Maritime Port Authority of Singapore, to be a leader in maritime decarbonization. We consider deployment of these two electric-hybrid bunker tankers to be an important step forward in Singapore's decarbonization journey."
The launch of the hybrid bunker vessels is the next step in the development of the company's efforts to support decarbonization. V-Bunkers, which lists a current fleet of approximately 20 bunker vessels, 13 months ago completed the first trial deliveries of bio-fuel blended VLSFO in Singapore. At the time they said it demonstrated the ability to incorporate the emerging option immediately as a near-term effort to reduce emissions.