Singapore Demand Covered by SLNG Terminal Expansion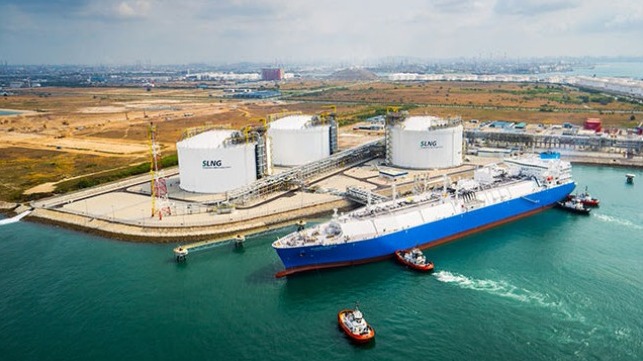 Singapore's SLNG Corporation's on-going terminal expansion initiative means the facility now has enough capacity to meet the nation's total gas demand.
Speaking to local media, CEO John Ng said the expansion brings regasification capacity from six to 11 million tons, enough to meet Singapore's demands even if it were to stop importing via natural gas pipelines. Around three quarters of imports are currently piped from Malaysia and Indonesia, and Singapore currently consumes about nine million tons a year. Ng says the terminal could replace current piped gas if the contracts were allowed to expire, or it could act as a security backup should technical issues occur.
The five-year-old terminal is located on a 40-hectare plot at the southern-most tip of Jurong Island, and it is being positioned for the anticipated take-off in large and small-scale LNG trading and LNG bunkering. It currently has excess regasification capacity but is using almost all of its storage capacity: three storage tanks with about 540,000 cubic meters in capacity in total. A fourth tank with a capacity of 260,000 cubic meters will be completed later this year.
SLNG is also modifying its secondary jetty, initially designed for vessels from 60,000-265,000 cubic meters in capacity, to accommodate smaller ships of 2,000 to 10,000 cubic meters. This upgrade is expected to be completed next year.
Last year, the company successfully performed its first small scale LNG reload at the jetty. The operation was carried out in June for the newly built, 6,500 cubic meter Cardissa, an LNG bunker vessel. Prior to this, the smallest LNG carrier that had called at the terminal for unloading or reloading was about 65,000 cubic meters in capacity.
Also last year, SLNG and the Maritime and Port Authority of Singapore (MPA) jointly launched the nation's first LNG Truck Loading Facility. The MPA has also released a standard for LNG bunkering. The technical reference (TR 56) covers requirements for custody transfer, procedures and safety distances and competency requirements for personnel. The technical reference covers LNG delivery from LNG bunkering facilities to receiving ships through four modes of transfer (truck-to-ship, shore-to-ship, ship-to-ship and cassette bunkering).
The Singapore Government has been working closely with industry players to advance the nation as a leading LNG bunkering and gas trading hub. In September 2015, MPA announced the co-funding program for LNG-fuelled vessels. There has been a positive response from the local harbor craft industry, and LNG-fueled tugboats and bunker tankers delivering conventional fuels are entering service this year.
In January 2016, the MPA issued two LNG bunker suppler licenses to Pavilion Gas and a joint venture between Keppel Offshore & Marine and Shell which they have named FueLNG. In October 2016, MPA announced the introduction of waiver of craft dues for LNG-fueled harbor craft and 10 percent port dues incentives for ocean-going vessels using LNG-fueled harbor craft when in the Port of Singapore. The MPA also signed a Memorandum of Understanding with seven other international port authorities and maritime administrations to build a network of LNG bunker-ready ports to facilitate the adoption of LNG as an alternative fuel.