Shipping Firms Call for IMO to Regulate CO2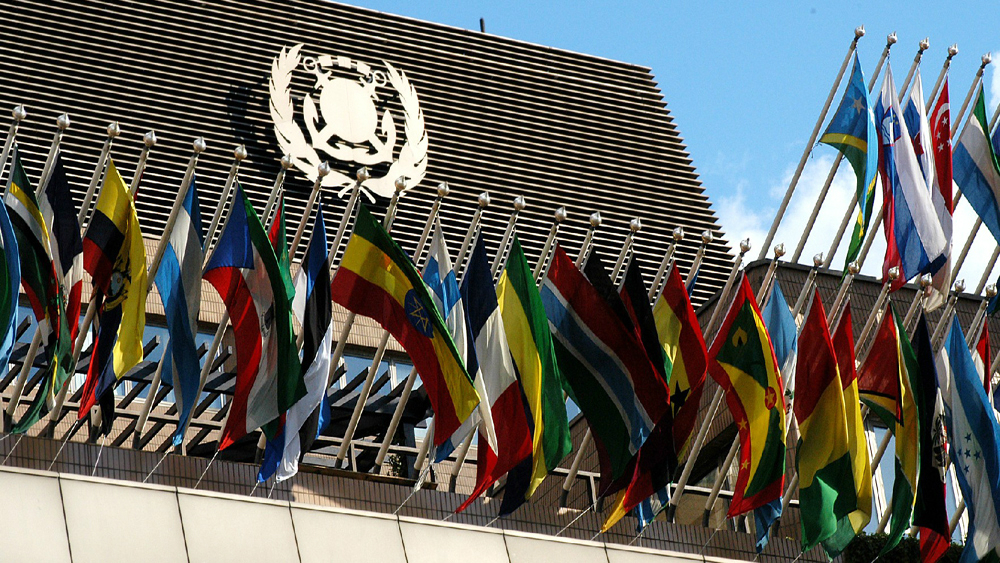 Ahead of next week's meeting of the IMO's Marine Environment Protection Committee (MEPC 70), a group of more than 50 leading maritime firms has issued a public call for "policies that drive investment in cost-effective greenhouse gas emission reduction efforts within the industry."
The group, which includes leading firms like Maersk, Wartsila, AkzoNobel and GAC, emphasized that shipping would have an important role in keeping global temperature increases below two degrees Celcius, the target agreed in the Paris COP21 accords.
The open letter called for action beyond current IMO standards on fuel efficiency (the EEDI and SEEMP requirements), noting that shipping's emissions will substantially increase in coming years in spite of current international regulations.
The letter echoes similar calls from the European Community Shipowners Association and the Sustainable Shipping Initiative (SSI); however, it is not quite as detailed and far reaching as SSI's platform, which includes a call for set emissions targets, enforcement mechanisms and rapid implementation. SSI's membership overlaps closely with the undersigned firms on the new open letter.
During the negotiations at the COP21 climate summit in Paris last year, the IMO successfully lobbied to retain oversight of shipping's emissions. Individual nations made greenhouse gas control commitments under the treaty, but international shipping and aviation were exempted.
At the last meeting of the IMO MEPC, a small group of developing nations blocked a work plan for regulating greenhouse gas emissions, much to the consternation of European shipping delegations and the IMO leadership. While it did not move towards a firm plan, the committee passed mandatory requirements for ships to record and report their fuel consumption, a measure seen as a step towards later emissions regulation.
The European Parliament is considering its own measures to regulate CO2 emissions for vessels calling at European ports, putting additional pressure on IMO to act now. European shipwoners have long advocated for an even regulatory playing field, a global set of standards that imposes equal requirements on all firms – rather than leaving regulation to IMO member states, which may create varying compliance costs for operators depending on their nationality.
Lloyd's Register (LR) and Shipping in Changing Climates, a cross-industry research project, released a study earlier this week that details a number of potential pathways for the shipping industry's transition to a low carbon future. Its Low Carbon Pathways 2050 is intended to contribute to the MEPC 70 deliberations with three scenarios for emissions controls through 2050.
Among other conclusions, the LR study warns that "a substitute for fossil fuel will still be required as energy efficiency improvements alone will not be sufficient in the medium to long term" in order to meet targets.
MEPC 70 to Consider Additional Emissions Measures
The Marine Environment Protection Committee is also scheduled to take up the question of the 0.5 percent fuel sulfur content cap, set to take effect worldwide in 2020. The panel will consider whether to postpone implementation to 2025 in order to give refiners, bunkerers and ship operators time to adjust. European ports group ESPO and the Exhaust Gas Cleaning Systems Association argued against any delay, saying that shipowners have had enough time to reach compliance and that the current date would coincide with the timetable for an EU sulfur cap. Pushing the global cap back would impose another unfair compliance burden on European interests alone, ESPO asserts.
In addition, some are calling for MEPC 70 to address the global warming potential of refrigerant gases.
During historic negotiations last week in Kigali, Rwanda, 200 signatories to the Montreal Protocol agreed to phase out the use of HFC refrigerants – a move that by itself could prevent up to 0.5 degrees celcius of global warming by the end of this century.
The current MARPOL Annex VI requirement is focused largely around the recording of refrigerant consumption and the means to handle refrigerants in a safe manner.
"Every kilo of R404A refrigerant vented to atmosphere this is the equivalent of 3922 kilos of CO2, so HFCs must be discussed. I hope a decision is made to amend MARPOL Annex VI in line with the revised Montreal Protocol commitments," said Robert Chesters, managing director of the refrigeration firm Ocean Technical Solutions. "Surely the next stage of Annex VI is to address the containment of refrigerants [with greenhouse gas potential]," he added.