Shipping Contract Links Freight Earnings to CO2 Emission Goals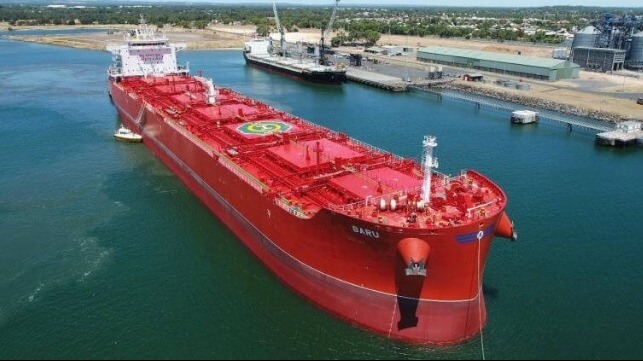 Norway's Klaveness Combination Carriers (KCC) reports working with its charterer South32 Marketing of Australia the shipping company has been able to put into effect what it believes is the first freight contract that links freight earnings to CO2 reductions. The role of charters in the emerging CO2 pricing and emissions regulations has been hotly debated in the industry with KCC and South32 possibly providing a first-mover model.
The carrier reported in January 202 that it had entered into a new six-year contract of affreightment for shipments of caustic soda to South32's Worsley Alumina refinery located in Western Australia. The companies reported that the contract established a framework for details CO2 emissions reporting as part of an effort to establish a path for annual CO2 reduction targets.
KCC and South32 have jointly developed a mechanism and the terms for freight rates to be linked to the CO2 emissions of KCC's vessels. The companies report that they have agreed to amend the contract to include a carbon pricing mechanism going forward.
"The shipping industry needs a price on carbon emissions to incentivize efficiency improvements and to start the transition to new fuels," said Engebret Dahm, Chief Executive Officer of Klaveness Combination Carriers. "In the absence of effective regulations, we are grateful for the support and partnership with front-runners South32 in developing and introducing the first carbon pricing mechanism in the dry bulk and tanker industries."
The agreement being implemented in 2023 works from a baseline for CO2 emissions established by KCC and South32. Under the revised terms, KCCC will receive a higher freight rate if actual carbon dioxide emissions are below the baseline but the freight rates will be lower in the event of underperformance relative to the baseline. KCC has agreed that any additional freight paid by South32 through this agreement will be dedicated to investments in energy efficiency measures in KCCC's fleet.
"We recognize that we have a critical role to play in contributing to the decarbonization of the value chain, in partnership with our customers and suppliers," said Holly Buschman, Vice President of Sustainability Strategy and Community for South32. "This agreement with Klaveness Combination Carriers is an important step towards our goal of net zero Scope 3 greenhouse gas emissions by 2050."
KCC operates a fleet of 16 combination carriers built for the transportation of both wet and dry bulk cargoes. The company reports that its vessels already operate with a 30 to 40 percent lower carbon footprint than competing vessels. KCC has highlighted several recent steps being tested toward lower emissions across its fleet. Working with Wartsila last year they were retrofitting a customer fin around the propellers on three ships to reduce any vortex from occurring that was reducing drag from the vessel as well as testing a fuel optimization of some of its vessels. Another pilot involved the installation of an air lubrication system and a shaft generator.
Ahead of the implementation of the IMO's Carbon Intensity Indicator (CII), the industry trade group BIMCO in November 2022 released its position calling for charterers to be assigned CII responsibility. They recommended amending charter agreements because the charterer makes the relevant decisions on the operation of the ship while also calling for both parties to work to find new ways to work together on emissions requirements. The trade group however came under strong criticism from charterers who said the recommendations were "imbalanced and unusable." BIMCO said it would continue to monitor the issue and adjust its recommendations based on feedback from the industry.