Shanghai's Sulfur Cap Takes Effect Three Months Early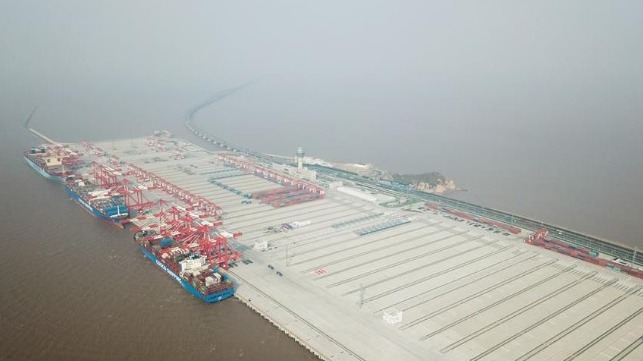 On October 1, the giant port of Shanghai - the world's busiest container port - will impose China's Emissions Control Area requirements on vessels transiting within the port area. According to marine insurer Huatai Insurance, the requirement will apply to "all ships which are navigating, berthing or operating in Shanghai port, excluding ships or crafts to be used for military or sporting purpose and fishing boats." These vessels will also be required to use shore power if they are equipped to do so.
The rule change will take effect months ahead of a previously-announced deadline of January 1, 2019. The regulatory measure imposes a fuel sulfur limit of 0.5 percent, and takes effect well ahead of the IMO 2020 fuel sulfur regulation, which will implement the same cap worldwide.
China's Ministry of Transport first announced its ECA zone policy in late 2015, and it began its rollout in the Pearl River Delta, Yangtze River Delta and the Bohai Sea on January 1, 2017. From that date forward, vessels were required to use low sulfur fuel while berthed at a major port in an ECA zone, or employ equivalent emissions reduction measures. From January 1, 2018, the restriction applies to berthed ships at any and all ports within a Chinese ECA. From January 1, 2019, the sulfur cap will be extended to all vessels within these ECAs, which extend 12 nm from shore in the affected port regions.
This last measure will now take effect in Shanghai on October 1, three months earlier than planned. On the same date, all inbound vessels transiting within the ECA zone (chart at left) and bound for Ningbo or Zhoushan will be subject to the same restriction.
In a circular, North of England P&I warned its members to consider the known risks of fuel changeovers when entering and exiting these ECA zones. These risks include:
- different heating requirements for heavy fuel oil and marine gas oil, and the importance of controlling the rate of temperature change during switching
- the risk of contamination caused by sending fuel oil returns to the wrong bunker tank after switching
- incompatibility issues when two fuels mix in the supply line, potentially leading to sludge formation
- the potential for wax formation in distillate fuels in cold weather.
[Yangtze ECA chart courtesy North of England P&I / Huatai Insurance Agency]