Seafarer Killed in Cruise Ship Lifeboat Accident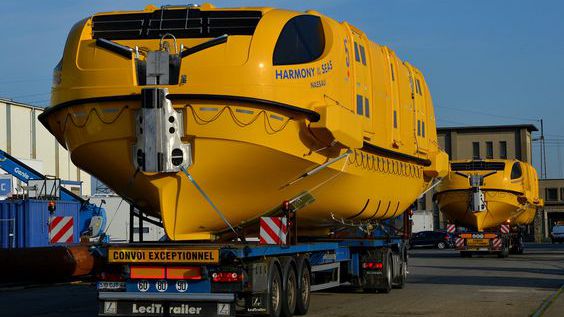 On Monday, yet another seafarer died in an abandon ship drill: a lifeboat fell from its davit on the Harmony of the Seas, the world's largest cruise ship, killing one and injuring four.
It was the second fatal lifeboat accident on a cruise vessel in three months, following the death of a Filipino crewmember of the vessel Norwegian Breakaway in July.
The lifeboat from Harmony of the Seas fell more than 30 feet into the water, killing one man, a 42-year-old Philippine national, and injuring all four others aboard. Two of the injured are reported to be in critical condition.
The cause of the accident is under investigation.
The Harmony of the Seas sailed on her inaugural voyage earlier this year. She is fitted with record-setting 44-ton, 370-person life boats, which exceed the normal design limit of 150 passengers on the regulatory allowance for equipment which may be shown to offer an equivalent level of safety.
"The guests literally just walk on, sit down and the vessel is lowered," said Rich Pruitt, Royal Caribbean's vice president of safety and environmental stewardship, describing the new lifeboats last year. "There's just less moving parts and less actions that have to be taken to get the boats ready to be launched. So in addition to the quality and the improvements in the boats themselves, the deployment and location of them on board the vessel leads to additional safety."
Lifeboat drills, part of a vessel's required preparations under Safety of Life at Sea regulations, have long been among the most hazardous planned evolutions in the maritime industry. The complex quick-release hooks suspending typical enclosed lifeboats from their davits are designed to hold tons of mass securely for years at a time and then come free quickly when the lifeboat is lowered to the water – but experts say that the hooks' complexity renders them vulnerable, and the precise series of actions required to use them may be confusing to crew.
"Most accidents [occur] during routine drills and maintenance activities at the human/mechanical interface, with the majority of personnel being injured or killed within the boat," the Nautical Institute reports, citing an industry study. "Equipment failure was reported to be the most common cause of accidents, within which quick release mechanism failure was identified as the most frequent cause. Design failure, lack of maintenance, a failure to follow correct procedures and lack of proper training were all considered to be major contributory factors leading to such casualties."