Scandal Erupts Aboard Royal Navy's HMS Vigilant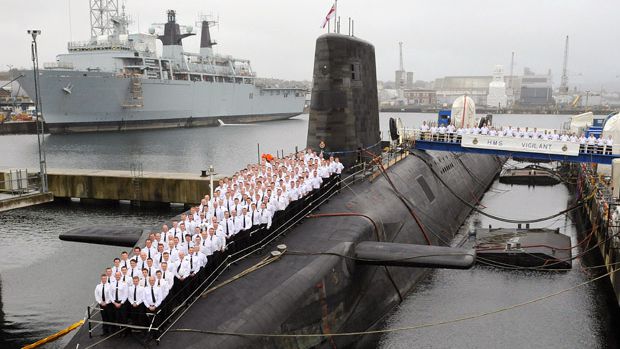 The Royal Navy is contending with one of its largest scandals in recent memory. About ten percent of the crew of the ballistic missile submarine HMS Vigilant have been removed or have departed in a string of revelations about illicit relationships, drug use and wild parties.
In September, Vigilant called at Naval Submarine Base Kings Bay in Georgia for a work period. While she was in port, senior officers in the UK received reports that Vigilant's captain, Commander Stuart Armstrong, was involved in an affair with a subordinate. He was removed from command, and an investigation into the alleged affair continues.
Shortly after Armstrong's removal, his second in command, Lieutenant Commander Michael Seal, was accused of a similar liaison with a subordinate and was relieved. The Royal Navy forbids intimate relationships between sailors within the same chain of command.
"We can confirm an investigation is underway, but it would be inappropriate to comment further at this stage," the Royal Navy said in a statement. "Any allegations of wrongdoing are taken very seriously and will be dealt with appropriately."
While the investigations proceeded on board, nine junior rates on the Vigilant's crew allegedly engaged in the use of cocaine at parties on shore. They tested positive for the Class A drug and have already been kicked out of the service. In addition, local police in Kings Bay have accused one of the Vigilant sailors of paying for the services of a prostitute, then stealing back her compensation. "HMS Vigilant has become known as the party boat," a Royal Navy source told the UK's Daily Mail.
The sweeping scandal has taken its toll on shipboard morale: two of Vigilant's remaining sailors have quit, and another flew home to the UK without leave. He has been arrested and faces a court martial for going AWOL.
Between the resignations, removals and dismissals, Vigilant has lost fourteen out of her total crew complement of 168. Defense secretary Michael Fallon is said to be furious about the scandal, and is believed to have ordered fleet-wide drug tests of all Royal Navy submarine crews. [Update: On November 1, Fallon resigned himself, citing his own exposure to allegations of sexual harassment. "I accept in the past I have fallen below the high standards that we require of the armed forces that I have the honour to represent," he admitted in a statement.]
The bad press comes in addition to the service's recent controversies over funding, shipbuilding, maintenance, manning and weapons procurement.