Sanctioned Russian Ship Detained in Busan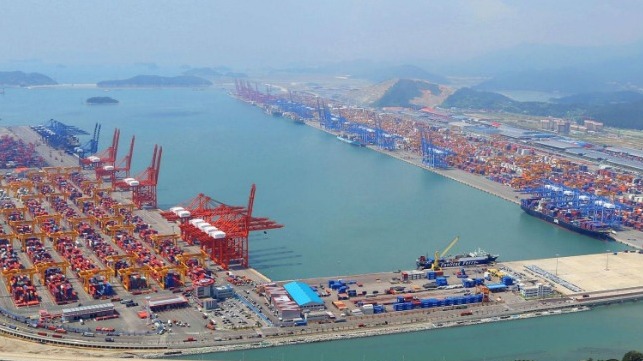 On Saturday, port state authorities in Busan detained the tanker Sevastopol, which has been blacklisted by the U.S. Treasury Department for allegedly violating sanctions on North Korea.
In August, the Treasury's Office of Foreign Asset Control (OFAC) added Gudzon Shipping Co. of Vladivostok, Russia, to the list of entities that are suspected of violating sanctions on North Korea. In particular, the Gudzon-owned tanker Patriot allegedly violated the UN Security Council ban on ship-to-ship petroleum transfers to North Korean tankers.
Six vessels owned by Gudzon Shipping, including the Sevastopol, were added to OFAC's sanctions list as a punitive measure. U.S. officials have not accused the Sevastopol herself of direct involvement in Gudzon's alleged trade with North Korea.
On Saturday, Gudzon Shipping told Russian media that the Sevastopol was being held in Busan in relation to U.S. sanctions, and it called upon the Russian government for help. On Monday, the Russian foreign ministry summoned South Korean ambassador Woo Yoon-keun to protest the ship's "illegal" detention and to call for her immediate release.
According to Russian press agencies, Woo believes that the question of the Sevastopol's detention will be resolved by Tuesday. "We expect that relations between Russia and South Korea will continue to develop successfully," he said.
This is not the Sevastopol's first high-profile detention. In 2015, she broke an arrest order from an Indian court and fled from Mumbai's anchorage. The Indian Coast Guard chased her for 11 hours before she surrendered and returned.
Systematic sanctions violations
U.S. ambassador to the UN Nikki Haley has accused Russia of regularly trading with Pyongyang, then covering up its activities.
"Russia is actively working to undermine the enforcement of the Security Council's sanctions on North Korea. Its violations are not one-offs. They are systematic," she alleged in an address to the Council last month. "Russia has not simply looked the other way as its nationals and entities engage in activities explicitly prohibited by UN sanctions. Russia has engaged in a concerted campaign in the Security Council to cover up violations of sanctions, whether they're committed by Russia or citizens of other states."