Samskip Installs First Carbon Capture Scrubber on Container Feeder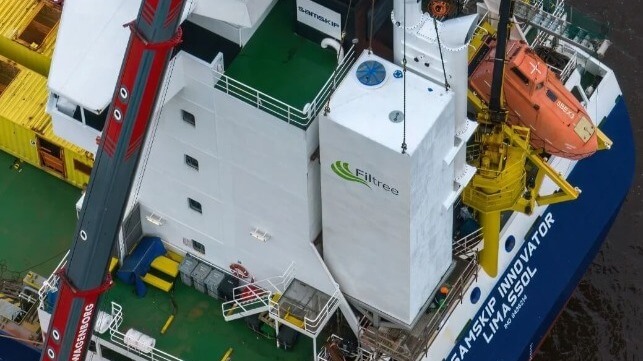 Short-sea container feeder operator Samskip has installed its first scrubber with carbon capture features, one of two units contracted from Value Maritime. The unit is capable of capturing at least 30 percent of CO2 emissions from the vessel's stack gases and storing the carbon onboard for later offloading.
The Filtree systems are among many new decarbonization technologies that Samskip is trialing. The vessels receiving the systems, Samskip Innovator and Samskip Endeavour, run between the UK and the Netherlands on biofuel, which cuts emissions by 90 percent on its own. "Using the Filtree system in addition will allow us to offer our first carbon neutral shortsea services," said Erik Hofmeester, Head of Vessel Management at Samskip, in a statement last year.
According to Value Maritime, the scrubber also neutralizes the pH of the washwater and removes oil residues and ultra-fine particles. A proprietary CO2 capture and onboard storage module is integrated into the system, and it stores the carbon dioxide in "battery" containers for reuse in shoreside agricultural applications (greenhouse operations).
Other headline-getting elements of Samskip's sustainability strategy include a project to build two emissions-free "SeaShuttle" feeder ships, powered by hydrogen fuel cells. India's Cochin Shipyard received the contract to build these groundbreaking vessels earlier this week.
The SeaShuttle project envisions hydrogen-powered, remotely controlled, autonomous-ready feeders that would operate between the Oslofjord and Rotterdam. The new ships will have a capacity of about 500 TEU, with the first vessel to be delivered in 28 months and the second within 34 months. The Samskip partnership also has options for two additional vessels.