Salvage Operation to Remove Bow Section of Wrecked Bulker OS 35 Begins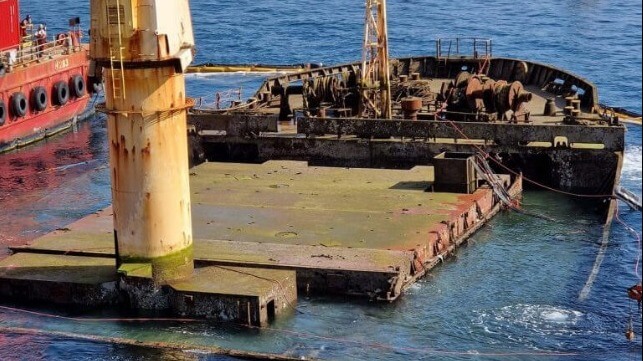 The next step in the process to remove the wreck of the bulker OS 35 that sank at the end of August 2022 off Gibraltar is now underway. Port officials had reported that they were waiting for a window of good weather with calm seas and low wind to begin the operation.
Lifting of the bow section of the bulker, which is approximately the forward third of the 584-foot long OS 35, began on June 28. The vessel broke into two pieces during a series of winter storms in the region. Initially, the bow sank to the seafloor after the bulker hit an anchored gas carrier while it was departing the port with a cargo of steel rods.
Progression on the blow refloating (Gibraltar Port Authority)
The OS 35 came to rest approximately 1,300 feet offshore from Gibraltar. Officials and the salvage team later decided to sink the stern to the seafloor to manage the hulk and reduce the potential for residual oil leaks. Despite putting the vessel on the seafloor, the storms extended damage to the hull until the two sections were separated.
Raising the bow section is complicated as it sustained more damage than the stern. The salvage team will be placing metal chains below the keel to stabilize the section and to aid in lifting it out of the water. It will be placed on a semi-submersible heavy lift vessel for removal for recycling.
Stern section is afloat awaiting removal (GBC News/YouTube)
Lifting of the bow section comes about two weeks after they started the refloating for the stern. The processes restored buoyancy in the stern. The stern section has been stabilized and lies in a nearby position also awaiting transfer to the heavy lift ship. Port Captain John Ghio reports that the salvage crew is aboard the stern to control water ingress and keep it stable. He declined to provide a timeline saying the primary focus is on safety during this phase of the operation.
The master of the OS 35 was recently convicted of crimes relating to the handling of the vessel and given a suspended sentence. During an interview, the port captain said there were things that he would like to have seen handled differently after the OS 35 hit the gas carrier. He said communications could have been handled better, but recognized the level of pressure the captain was under at the moment.
The Port of Gibraltar says they are in the final phase of the salvage operation. Once it is completed, they plan a further review of the incident investigation and the lessons learned to improve operations and safety.