Sailor Undergoes Emergency Appendectomy While Under Way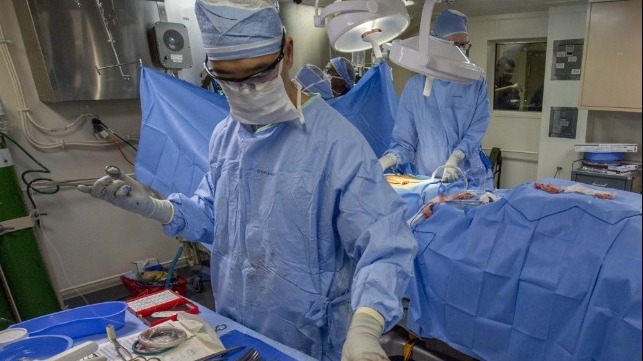 Aboard most vessels, acute appendicitis would be cause for an immediate medevac. Not so for 20-year-old Electrician's Mate Fireman Samuel Guidroz, who fell ill while deployed far from shore aboard the amphibious assault ship USS Somerset.
Somerset, a San Antonio-class amphib, is equipped with two operating rooms and two dozen hospital beds, reflecting her role as a launching pad for beach assaults. During this voyage, she also happened to have a fleet surgical team from Marine Amphibious Squadron 3 aboard to augment her capabilities.
On November 27, when Guidroz fell ill, he reported to the ship's medical bay, and he was diagnosed with appendicitis. The surgical team made preparations for an immediate intervention. Surface conditions were rough, though, and the motion aboard the 680-foot ship made Guidroz nervous about undergoing surgery. The surgical team asked the bridge team to alter course in order to minimize motion, and they assured Guidroz that performing a surgical intervention under way was the right thing to do. The appendectomy was successful.
When Guidroz awoke, he felt groggy but relieved. "Everything went great. Just like it would have if I had been back at a regular hospital," Guidroz said. "It feels good knowing and having that assurance that something like this can be taken care of out here at sea. I can't thank the medical team enough for what they did."
USS Somerset is an LPD-class amphibious transport dock ship, and she is based out of San Diego. She is presently deployed on the Pacific Ocean side of U.S. 4th Fleet's area of operations (Latin America).