Sailor Accused of Spying for China Was Not an American Citizen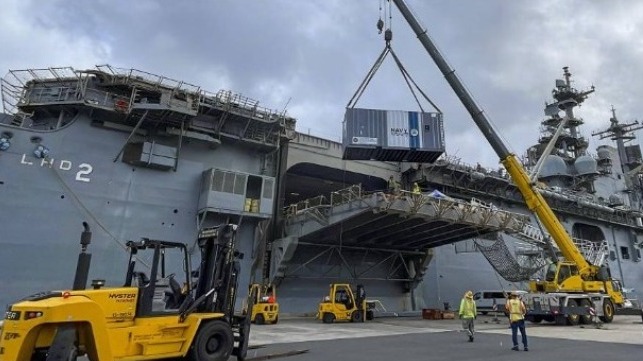 A U.S. Navy sailor charged with spying for China did so with encouragement from his mother, who told her son that the betrayal would help him in a future career in the Chinese Communist Party, according to federal prosecutors.
Last week, U.S. Navy Machinists' Mate Jinchao (Patrick) Wei was arrested and charged with conspiring to send information about the amphib USS Essex to Chinese intelligence. Though he was not an American citizen, Wei had access to restricted information about the ship's propulsion and weapons systems.
In February 2022, according to DOJ, Wei began working with a Chinese intelligence officer. The agent wanted information about Essex's systems, along with sensitive schedules for the movements of other Navy vessels. Wei allegedly sent him photos and videos of the Essex, along nearly 60 restricted technical manuals - including the manuals for her weapons control systems, propulsion, steering system, elevators and casualty control systems. At least 10 of these manuals were new and useful for Chinese intelligence, the handler allegedly told Wei.
Wei also "disclosed what he believed to be a weak point of the USS Essex," according to charging documents.
Wei was born in China and was not an American citizen in February 2022, the time period in which he began spying for China, according to prosecutors. He became a naturalized U.S. citizen three months after he allegedly began his espionage arrangement.
Pentagon recruiting rules allow lawful permanent residents of the U.S. to join the armed forces, and about 5,000 do so without first obtaining citizenship each year, according to the advocacy organization Veterans for New Americans. Military service is a time-honored route to citizenship, and foreign-born servicemembers are often valued in the armed forces for their cultural knowledge and language skills.
In December 2022, Wei returned to his family's home in Wisconsin and discussed his arrangement with the Chinese agent with his mother, according to prosecutors. The prosecution alleges that Wei's mother advised him to go ahead with the arrangement to improve his odds of securing a future job with the Chinese Communist Party, according to the AP.
Wei and the Chinese agent had previously discussed flying both him and his mother to China, with expenses paid by the Chinese government. Prosecutors argued that Wei should be held pending trial and should not be released on bail, and the judge agreed, finding that he posed a serious flight risk.
Wei has been charged with delivering defense information to a foreign government (espionage) and exporting defense articles without a license, along with related conspiracy charges for both counts.