S. Korean Navy Fires Warning Shots at North Korean Patrol Boat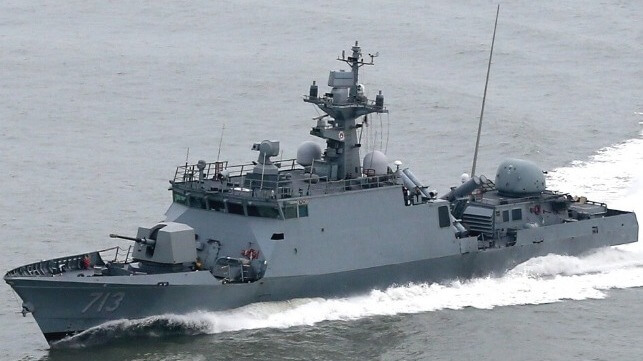 On Saturday, South Korean forces used warning shots to repel a North Korean military vessel which had strayed across the Northern Limit Line (NLL), the contested line of demarcation between the two nations' waters.
At about 1100 hours Saturday, a North Korean patrol vessel chased a Chinese fishing vessel across the NLL and crossed into South Korean-controlled waters. A South Korean high-speed patrol craft responded and fired warning shots to drive the North Korean craft back across the line. The North Korean vessel responded and immediately changed course.
In the fray and in poor visibility, the South Korean vessel collided with the Chinese fishing vessel that the North Korean unit had been chasing. Several crewmembers aboard the South Korean vessel sustained minor injuries when the two boats made contact.
"Our military maintains decisive battle posture while monitoring the enemy's movements in preparation for potential provocations regarding NLL violations by North Korean patrol boats," South Korea's Joint Chiefs of Staff said in a statement Sunday.
Clashes between North Korean forces, South Korean patrol vessels and Chinese fishermen are a frequent occurrence in the waters northwest of Incheon. The administration of the region is far from settled: North Korea does not recognize South Korea's NLL boundary, and the two nations are still technically at war.
Encounters along the line have sometimes turned deadly, like the sinking of the South Korean Navy corvette ROKS Cheonan. The vessel sustained an explosion and sank off Baengnyeong Island in March 2010, killing 43 sailors on board. A multinational inquiry determined that the corvette had been torpedoed by a North Korean submarine, based on components of a munition recovered from the scene, but Pyongyang denies any responsibility.
The run-in comes amidst heightened tensions between the North and South, with dualing military exercises and displays of strength on both sides. In March, the U.S. and South Korea held their largest joint military drills in six years. The U.S. Marine Corps also resumed amphibious exercises with South Korean forces for the first time in years, deploying the USS Makin Island Amphibious Readiness Group and conducting an over-the-horizon assault drill near the port of Pohang. Meanwhile, North Korea has conducted a series of provocative ballistic missile tests over the Sea of Japan, and it has published new claims about the development of missile-ready nuclear warheads and unmanned long-range nuclear torpedoes.