S. China Sea FONOPS to Continue Despite Collisions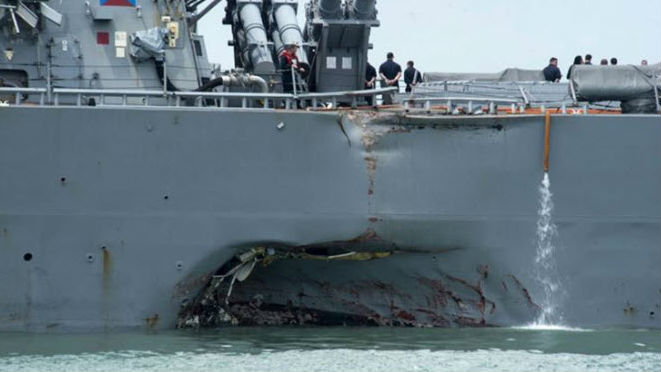 Despite two deadly collisions involving front-line surface combatants in recent months, the U.S. military has no plans to slow its freedom of navigation patrols and overflights in the South China Sea, said U.S. Pacific Air Forces commander Gen. Terrence J. O'Shaughnessy on Friday.
Gen. O'Shaughnessy is not a Navy officer, but during a visit to Kuala Lumpur he assured the press that "there is no setback to the [freedom of navigation] operations" due to the casualties involving the destroyers USS John S. McCain and USS Fitzgerald. "We stand firm that we are going to sail and fly anywhere where international rules allow," he said.
The McCain had recently completed a freedom of navigation operation within 12 nm of disputed Mischief Reef in the Spratly Islands, drawing a strong rebuke from the Chinese defense ministry. China objects to American maneuvers in waters it claims as its own, despite an arbitral ruling last year that dismissed China's sweeping claims to most of the South China Sea.
Following the two collisions, which claimed the lives of at least nine sailors and took both destroyers out of action, Chinese government-controlled outlet China Daily cast the U.S. Navy as a threat to safe navigation. "There is no denying the fact that the increased activities by U.S. warships in Asia-Pacific since Washington initiated its rebalancing to the region are making them a growing risk to commercial shipping," the paper wrote in an editorial. "While the U.S. Navy is becoming a dangerous obstacle in Asian waters, China has . . . boosted navigational safety by constructing five lighthouses on its islands."
Meanwhile, the pro-government daily Global Times appeared to celebrate the collision involving the McCain. The paper claimed that the enthusiastic reaction to the accident from Chinese social media "netizens" reflects the "sentiment of Chinese society towards the activities of the U.S. Navy in the South China Sea."
"The US Navy has behaved arrogantly in the Asia-Pacific region. It lacks respect for huge merchant ships and fails to take evasive action in time, thus resulting in serious accidents," the Global Times alleged.
The multi-pronged investigations into the two collisions are not yet complete. In the McCain investigation, the Navy says that it is investigating all plausible causes, including the possibility of equipment failure or cyberattack. Chief of Naval Operations Adm. John Richardson told CNN on Friday that there was no evidence to date to support the possibility of a cyber intrusion, but he added that cyber factors have become a routine part of the service's casualty investigation process.