RWE and Equinor Plan Subsea Hydrogen Pipeline From Norway to Germany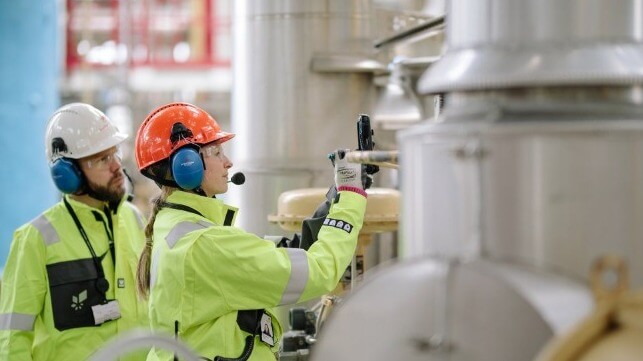 Norway and Germany have reached a deal to build the world's first subsea hydrogen pipeline, enabling exports of blue hydrogen extracted from Norway's abundant offshore natural gas.
The agreement would see the construction of a dedicated hydrogen line from Norway's western coast to an area near Bremerhaven, according to illustrations released by German state energy company RWE. The deal lso includes a plan to build three gigawatts of hydrogen-compatible gas powerplant capacity in Germany by 2030. The plants would be designed to run on 50 percent hydrogen at commissioning and 100 percent hydrogen by the mid-2030s.
The new generating capacity will help Germany wean its power grid off of coal, while also offsetting the loss of Russian natural gas supplies. The exact specifications and capex cost of the pipeline were not disclosed, but the partners want to have the system in operation from 2030 onwards.
On the supply side, Norwegian state energy company Equinor plans to build two gigawatts worth of blue hydrogen reforming capacity by 2030, expanding to 10 gigawatts by 2038. These plants would be fed by Equinor's offshore gas fields, providing a viable market for Norwegian offshore energy well into the low-carbon era. The CO2 from the reforming process would be captured and reinjected into subsea formations for permanent storage.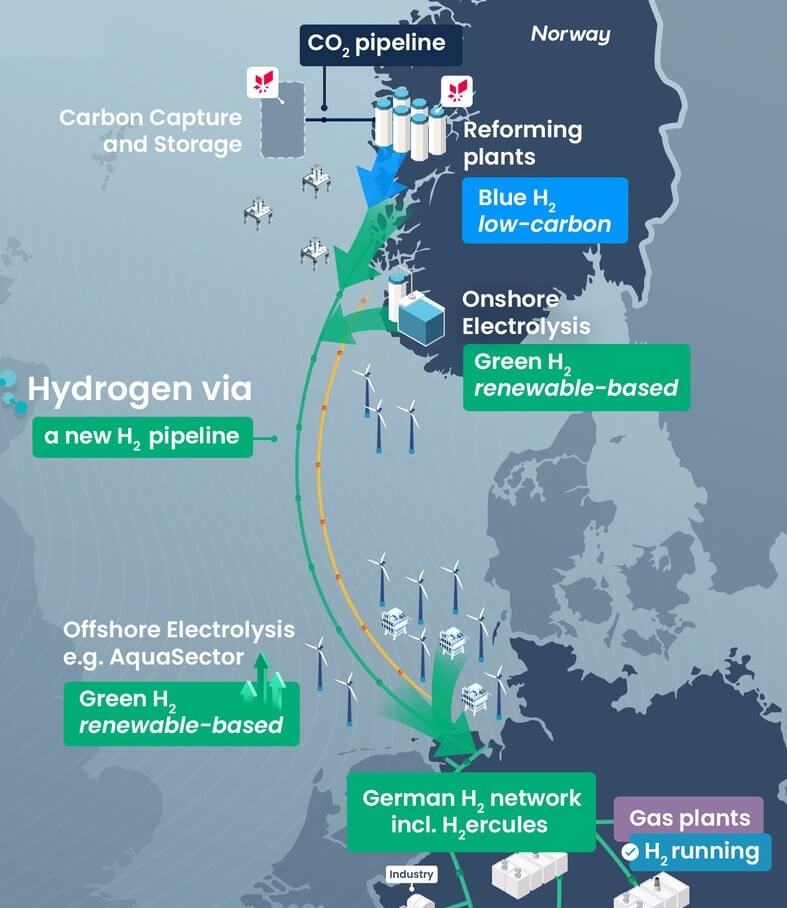 Illustration courtesy RWE/Equinor
Since Norway's upstream sector has the lowest emissions from production in the world, and about 95 percent of the carbon from the natural gas feedstock would be captured and stored after H2 reforming, the overall CO2 footprint of the project would be low - even if the initial energy source is fossil gas.
In the long run, RWE and Equinor plan to collaborate on ways to expand renewable green hydrogen production in Norway and other nearby countries, primarily from offshore wind. This includes the AquaSector project in the North Sea, a small 300 megawatt offshore wind farm purpose-built for making green hydrogen at sea.
"There is an urgent need for a rapid ramp up of the hydrogen economy," said RWE CEO Markus Krebber in a statement. "Blue hydrogen in large quantities can make a start, with subsequent conversion into green hydrogen supply."
The Norwegian and German governments also pledged to work together on a variety of green initiatives, including offshore wind development and the promotion of green shipping. Together, they plan to continue their efforts to accelerate the phase-out of greenhouse gas emissions from the maritime industry via action at IMO and other venues.