Russian Rescue Teams Evacuate Two Injured Crew from Fire on Bulker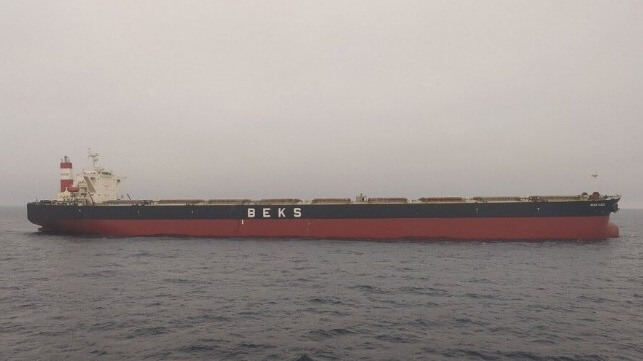 Russian's Maritime Rescue Service responded to a fire aboard a bulker at the port of Nakhodka on the Sea of Japan and evacuated two crewmembers that were reportedly injured in the fire. Berks Gemi of Istanbul, Turkey which operates the vessel is however terming it a small-scale fire that was brought under control.
The Ministry of Transport for the Russian Federation issued a statement saying the local team in the port received reports of the fire at 0200 (Moscow time) on June 16 with the Beks Force reporting an "uncontrolled fire in the engine room." The Capesize bulker, which is 948 feet long and 177,216 dwt, was arriving from Luoyuan, China to load coal in Vostochny. The vessel was in Peter the Great Bay approximately 24 miles south of Cape Povorotny when the distress call was made.
Two search and rescue vessels from the Marine Rescue Service and two vessels from the border department of the Federal Security Service were dispatched to provide assistance. The Russian reports indicate that they sent an emergency rescue party and firefighting equipment to the scene.
The crew was able to seal the engine room and contain the fire within the space according to the Russian reports and used the fire suppression system. They were also reported to be cooling the adjacent bulkheads.
There are 24 crewmembers aboard the vessel consisting of two Turkish citizens and 22 from the Philippines. Two of the Filipino crewmembers were injured and evacuated by a Border Guard vessel. They were transferred once on shore to a hospital where they are being treated. Russian authorities are reporting that the remainder of the crew refused offers of evacuation.
The Maritime Rescue Service reports the fire was declared out by 1100 (Moscow time) but that smoke remains in the engine room. The captain informed them that the bulker no longer required assistance and the operation was declared over.
As of the end of Friday, the vessel's AIS signal continues to report that the vessel is drifting and not under command.