Russia Celebrates Navy Day, Expects 26 New Ships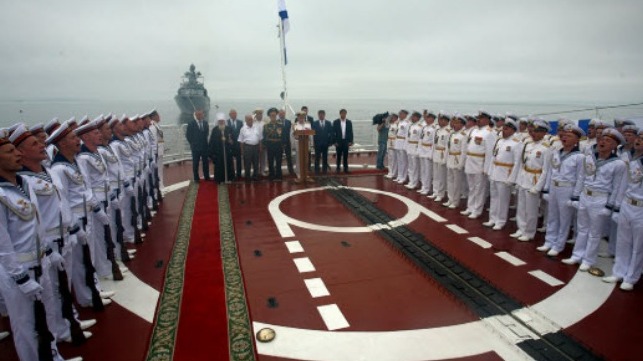 The Russian Federation marked Navy Day on Sunday with a parade at St. Petersburg in the Neva River involving over 40 warships, 38 aircraft and 4,000 troops.
During the celebrations, President Vladimir Putin announced that Russia has plans to add 26 new ships by the end of the year. Eight new ships have already entered service this year including four naval surface ships, a counter-terrorism boat and three logistics vessels.
Warships from the Baltic, Northern and Black Sea fleets as well as a Caspian Flotilla made up the Navy Day parade line-up which included the frigate Admiral Makarov (Black Sea Fleet), the corvette Soobrazitelny (Baltic Fleet), the diesel-electric submarine Dmitrov and the amphibious ship Minsk.
Additionally, Russia's new stealth frigate Admiral Gorshkov, the amphibious ship Ivan Gren, the corvette Boiky and the minesweeper Alexander Obukhov participated. CNN reports that the Admiral Gorshkov, and another 11 vessels, were too big to sail into the Neva River where the main part of the parade took place, so Putin greeted their crews at Kronshtadt, St. Petersburg's seaport, where they anchored in parade formation.
A number of other Russian cities hosted events including Vladivostok where the parade involved the Pacific Fleet's missile cruiser Varyag, the destroyer Bystry, the border guard ship Komandor and the training ship Perekor. A mock submarine was searched for then destroyed by torpedoes and depth bombs. A parade was also held in waters off the Syrian port of Tartous. This included the diesel-electric submarine Kolpino.
The Russian Navy fleet was founded in 1696 by Emperor Peter the Great.