Russia and Myanmar Extend Military Cooperation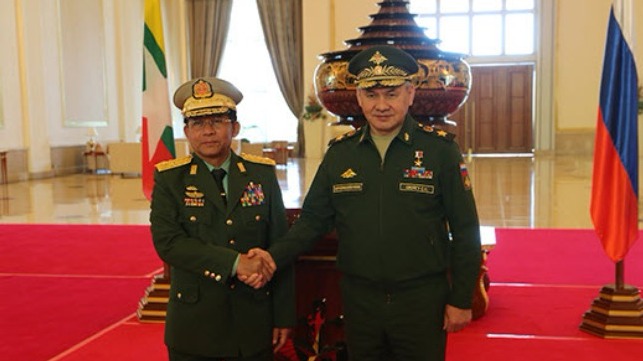 An intergovernmental agreement on simplified procedure for calls of warships to the ports of Russia and Myanmar was reached on Saturday after talks between Russian Defence Minister Sergei Shoigu and the commander-in-chief of the Myanmar Armed Forces Senior General Min Aung Hlaing.
The agreement was part of moves to extend military cooperation between the two nations, and Shoigu says the nations are ready to implement a large-scale bilateral military cooperation plan.
"We point to a positive dynamics of the cooperation between Russia and Myanmar in the military sphere, an additional impetus to which was given by the agreement on military cooperation of 2016," said Shoigu, General of the Army. Russian news agency TASS reports the minister saying that Russia is set to strengthen the armed forces' combat readiness. The countries' military support regular contacts, he said. "We pay special attention to visits of the Russian military ships to Myanmar's ports, and we expect visits to Russia of the warships from Myanmar," Shoigu said.
Shoigu also says Russia is ready to share its experience of fighting long-range unmanned aerial vehicles used for attacks by terrorists in Syria with Myanmar. "There is a new terrorist threat evolved in Syria – unmanned aerial vehicles that can operate at a range of over 100 kilometers (62 miles)." He pointed out that such terrorist attacks can happen elsewhere, not only in Syria.
Shoigu is visiting Myanmar, Laos and Vietnam during a working trip to Southeast Asia from January 20 to 23.