Rotor Sail Tests to Begin Aboard World's Largest Short Sea Ro/Ro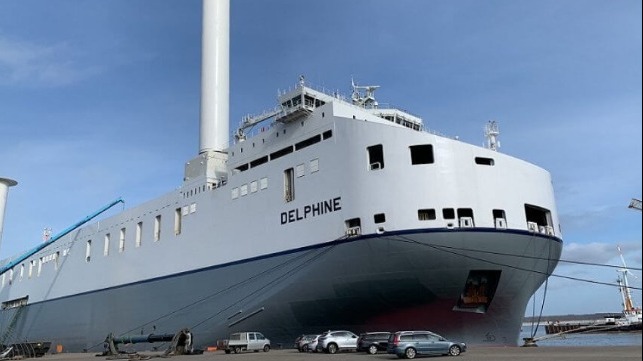 CLdN, a logistics specialist operating short sea and bulk shipping, is ready to begin testing rotor sails aboard its Ro/Ro MV Delphine during its normal operations between the UK, Ireland, and Europe. The installation which was recently completed in Rostock, Germany represents one of the largest vessels to yet test the modern version of the technology developed by Norsepower.
With the global shipping industry in a race to deploy wind-assisted propulsion to achieve the goals of reducing emissions and improving the operating efficiency of vessels, CLdN plans to use the vessel to demonstrate the performance of sails in normal operating conditions. Working with the Maritime Technology Division at Ghent University they plan to study the performance of the sails on the Delphine in the coming months to establish a benchmark. The Luxembourg headquartered logistics specialist says it intends to install wind-assisted propulsion across its fleet of 20 Ro/Ros after assessing the level of performance of this first ship.
Built in 2018, the Delphine is a 27,687 dwt vessel measuring 767 feet in length. Registered in Malta it has a capacity of nearly 8,000 lane meters, making it the largest short sea vessel of its kind.
The Delphine according to its AIS data arrived in Rostock on February 17 where the final stage of the rotor installation was undertaken. The ship was fitted with two rotor sails, each measuring approximately 115 feet in height and with a 16-foot diameter. CLdN reports that the sail system is fully automated and detects whenever the wind is strong enough to deliver fuel and emission savings, at which point the sails start automatically. The sails are also tiltable, allowing the vessel to pass under bridges and maintaining operational flexibility.
"The rotor sails will maximize our fuel and emissions savings on the Delphine and we will use this project to help determine how the technology could be deployed on the current CLdN fleet and our new-build vessels," said Gary Walker, Chief Operating Officer, CLdN Ro/Ro.
The shipping line reports that the ship is already one of the most fuel-efficient short sea Ro/Ro vessels operating in the world today. They report achieving 28 grams of CO2 emitted per tonne of cargo shipped per kilometer traveled with the Delphine. They expect the rotors will provide an additional 10 percent reduction in emissions.
Norsepower, which has been demonstrating rotors for nearly a decade, including a 2014 installation on a smaller Ro/Ro, developed the rotors for the Delphine. In late January the company reported that it had secured a $10.5 million loan from the Finnish Climate Fund to increase its rotor sails production capacity. They report that depending on the wind conditions, rotors can reduce a vessel's fuel consumption by 5 to 25 percent.