Rolls-Royce and Wartsila in Close Race with Autonomous Ferries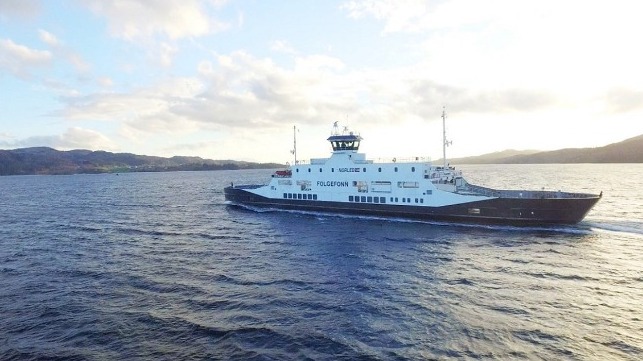 Within days of each other, Wartsila and Rolls-Royce have announced successful dock-to-dock navigation tests aboard ropax ferries fitted with their respective autonomous-vessel systems. Wartsila described its autonomous trial as an "unprecedented" round of tests, and Rolls-Royce said that it has now demonstrated the "world's first fully autonomous ferry."
Wartsila's test (announced November 28) took place aboard the hybrid-powered ferry Folgefonn, which operates a three-stop route in Hordaland, Norway. During the trial, the Wartsila autonomy suite handled all navigational operations along the full route, including docking and undocking. A master was on the bridge to take command in the event that it should become necessary - but during this demonstration, the captain's only intervention was to press a button to instruct the vessel to begin each leg of the voyage.
The test was a major milestone: Wartsila believes that it was the first ever attempt at "fully automated dock-to-dock operation, in complete hands-off mode, for a vessel of this size."
Rolls-Royce's autonomy test (announced Monday) took place aboard the ropax ferry Falco on a run between Parainen and Nauvo, Finland. Rolls-Royce and its partners conducted 400 hours of trials with the vessel before inviting Finnish regulators on board for a demonstration. During the formal test, the sensor-equipped vessel navigated its route in fully autonomous mode - including collision-avoidance tests and automated docking - without incident. A remotely located human pilot controlled the vessel on a return voyage.
"Today marks a huge step forward in the journey towards autonomous shipping. It's five years since we began the discussion about autonomous ships. At the time, reactions ranged from curiosity to dismissing it as a crazy idea. Today, we have demonstrated what's possible," said Mikael Mäkinen, president of marine for Rolls-Royce, in a statement Monday.
Proudly announcing the world's first fully autonomous ferry voyage. Project SVAN (Safer Vessel with Autonomous Navigation), a partnership between Rolls-Royce and #Finferries, promises safer and more efficient operations. More: https://t.co/DhRAh3umlw pic.twitter.com/oeMyU24ASd

— Rolls-Royce (@RollsRoyce) December 3, 2018