Rockslide Closes Corinth Canal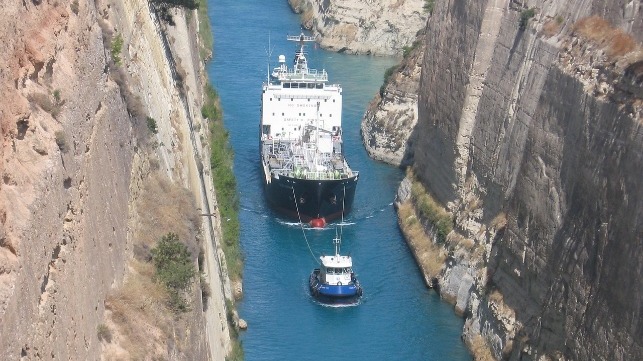 On Monday, Greek ports officials closed the 125-year-old Corinth Canal after a rockfall blocked the narrow waterway. The closure means that small vessels will have to travel 185 nm around the Peloponnese to transit between the Gulf of Corinth and the Saronic Gulf.
Video from the scene shows a large rockpile blocking the waterway, with more loose sediment cascading down. Authorities expect that it will take two weeks to remove the debris.
The 70-foot-wide, 26-foot-deep canal has a long and troubled history, and closures due to landslides have plagued it for decades. It is little-used by merchant traffic, as it can only accomodate ships moving in one direction at a time and is much too narrow for modern vessels. In addition, tidal currents render navigation challenging, and vessels that are close to its 56-foot width limit have to be escorted through by tugs.
Planning for the canal began in the 7th century BC during the reign of Periander, ruler of Corinth. Periander ultimately opted for a less costly overland portage system, and construction on a canal did not get under way until the administration of Roman emperor Nero some 600 years later. The project was canceled after Nero's death in 68 AD, and the effort was abandoned for 1,800 years. In 1882, a concessionaire broke ground again on Nero's original route, and the canal was completed in 1893.