RNLI Rescues Four From Sinking Trawler off Penzance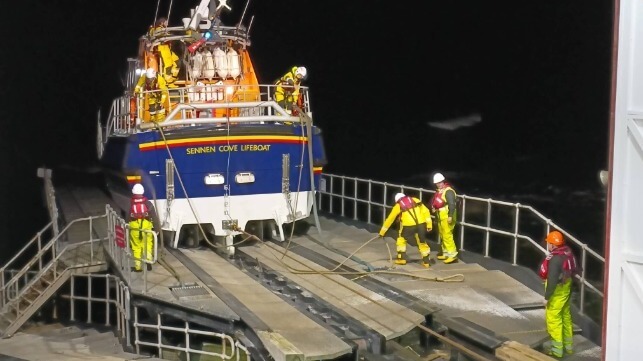 On Tuesday, a Belgian fishing vessel went aground on rocks off Penzance and began taking on water, forcing her four crewmembers to call for help and abandon ship.
Shortly before 1800 hours, the beam trawler Sylvia Mary likely struck bottom off the coast of Porthgwarra, Cornwall. The crew made a distress call to HM Coastguard, which activated the RNLI lifeboat crew at Sennen Cove to respond, along with helicopters from the Coastguard and the Royal Navy.
The Sennen Cove lifeboat launched at 1755 with a crew of seven and sped to the scene, arriving at 1812 hours. Two other Begian trawlers, the Grietje and the Albert Bos, stood by in the vicinity.
Seeing the state of the trawler, which was low in the water and sinking by the bow, the lifeboat's coxswain advised the stricken vessel's crew to abandon ship into their liferaft.
no good.crew saved pic.twitter.com/kGBRVUrzS3

— Cj De Boer (@cees447) February 14, 2023
The survivors complied and abandoned ship, but the RNLI lifeboat could not approach closer because the trawler's beams were deployed. Instead, the RNLI crew launched their small dinghy to retrieve the survivors from the inflatable liferaft.
The trawler's four crewmembers were unharmed but wet and cold, and the RNLI lifeboat brought them back to Newlyn harbor for further care.
The shipowner told Belgian outlet Nieuwsblad that he learned of the accident via a phone call from the crew, after they had abandoned ship. Two of his sons and a grandson were on board, along with a Polish deckhand. "Fortunately the crew is heathy and well," he said. "I hope to talk to them today to find out exactly what happened. Still, I am especially relieved that I can still embrace them."