Rhine Water Levels Improve After Heavy Rains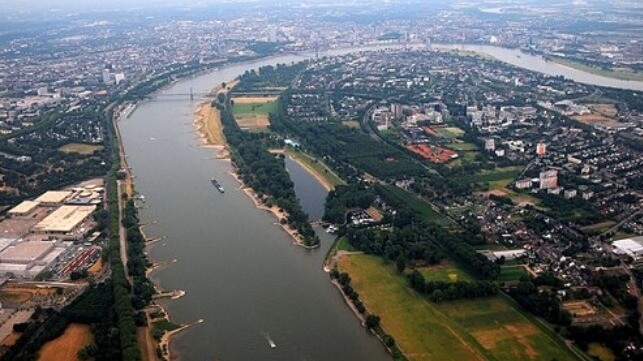 With major inland waterways facing immense pressure from a persistent drought, Germany's Rhine River has seen some improvement this month. In the past week, heavy rainfall in the Rhine's upstream regions have caused the water levels to rise, giving shippers and barge operators some reprieve. However, the northern regions around Cologne and Duisburg are still shallow and normal shipping is yet to resume.
Dry weather conditions have resulted in water levels at the Kaub measuring station to fall from 350 centimeters (cm) in May down to around 135 cm in June. The situation became dire early this month when the levels fell below the 100 cm mark. This meant some barge types could only sail half full, increasing costs for cargo owners.
As of Friday, the levels had risen again to around 180 cm due to the ongoing precipitation allowing vessels to sail with full loads.
Since 2018, Germany has been experiencing exceptionally dry and hot summers affecting water levels in catchment areas of the Rhine River. Last year in August, the water levels fell to 40 cm, becoming one of the lowest levels ever recorded in a decade. As a result, Deutsche Bank estimated that freight transport reduced by over 26 percent compared to the same month a year earlier.
The Rhine River is central to Germany's inland shipping sector. Major German corporations depend on the Rhine River to transport products such as grain, coal, minerals and oil products. Thus, any disruptions to navigation in the river is a source of concern for many businesses.
To adapt to the falling water levels, companies are forced to charter low-water barges. Carriers such as Maersk have also introduced surcharges depending on the water levels.
"Kindly note that in case of water levels at Kaub falling below 81 cm or Duisburg-Ruhrort below 181 cm, we regret that a loading guarantee for your cargo cannot be granted anymore," Maersk advised clients early July.