Retailers Expect Continued Slow Growth in Imports Lowering Q3 Outlook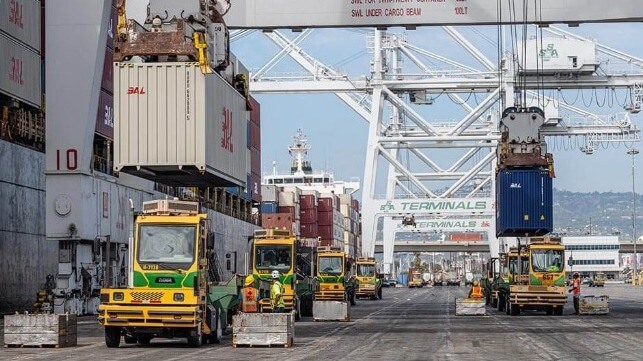 Retailers continue to expect lower import volumes noting that container shipment levels have returned to pre-pandemic levels and are likely to stay at these levels. The National Retail Federation in its monthly forecast for container imports says that it expects that the first half of 2023 volumes will be down by nearly a quarter versus last year while it also continues to forecast declines over last year in coming months.
The NRF highlights that the disruptions at the U.S. West Coast container ports are also creating additional uncertainty for retailers as they prepare for their busiest season. While saying that the disruptions at West Coast ports have not yet been widespread enough to impact overall volumes, the association earlier this week called on the Biden administration to intervene in the labor dispute. The NRF is saying that the administration should step in and help the parties reach an agreement and end the disruptions so operations can return to normal.
"The last thing retailers and other shippers need is ongoing disruption at the ports," said Jonathan Gold, Vice President for Supply Chain and Customs Policy for the NRF. "If labor and management can't reach agreement and operate smoothly and efficiently, retailers will have no choice but to continue to take their cargo to East Coast and Gulf Coast gateways."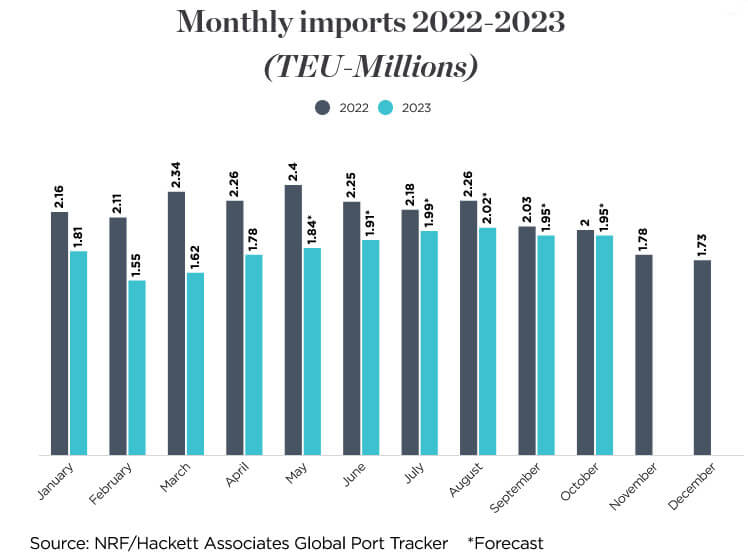 The trade group's monthly Global Port Tracker now projects that import levels in the first half of 2023 will come in at 22 percent below last year. Monthly volumes have continued to rise starting with February and the NRF expects that volumes will continue a slow increase while remaining significantly behind 2022 levels despite increased consumer spending.
"Economists and shipping lines increasingly wonder why the decline in container import demand is so much at odds with continuous growth in consumer demand," Hackett Associates Founder Ben Hackett said, noting that spending has been bolstered by strong employment numbers and increases in personal income. "Import container shipments have returned to the pre-pandemic levels seen in 2019 and appear likely to stay there for a while."
Taking into account the continued slow recovery and potential for further disruptions on the West Coast, the NRF is now forecasting that third-quarter imports will continue below last year. They are forecasting a total of 5.96 million TEU down nearly eight percent from a year ago.
This month's projections are also a further one percent lower than last month's forecast of 6.01 million TEU for the third quarter. They are now expecting monthly volumes to top out at approximately 2 million TEU and fallback in the typically busy months of September and October.
For the first nine months of 2023, the NRF forecasts that imports will total 16.48 million TEU. That will be down 17.6 percent year-over-year. Imports for all of 2022 totaled 25.5 million TEU, down 1.2 percent from the annual record of 25.8 million TEU set in 2021.