Retail Imports Will Remain Low After Falling to Pre-Pandemic Levels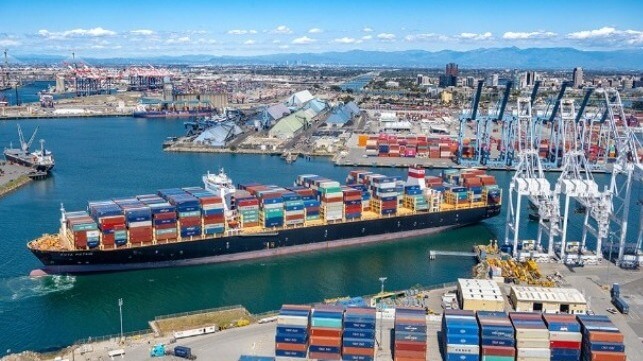 Retail imports have peaked and continue to fall at the major U.S. ports in part due to the slower pace of consumer spending, continued economic pressures, and retailers which built up inventories early in 2022. The National Retail Federation reports that container imports have dropped to their lowest levels in nearly two years prompting the retail trade association to lower its forecasts for the start of 2023 while saying that the business has returned to pre-pandemic levels.
"Ports have been stretched to their limits and beyond but are getting a break as consumer demand moderates amid continued inflation and high interest rates," said Jonathan Gold, NRF Vice President for Supply Chain and Customs Policy. "Consumers are still spending and volumes remain high, but we're not seeing the congestion at the docks and ships waiting to unload that were widespread this time a year ago."
In the monthly update of its Global Port Tracker, the NRF reports that container imports fell below two million TEUs in November 2022 for the first time since February 2021. Port volume plummeted to 1.78 million TEU, which was down more than 11 percent versus the previous month and nearly 16 percent from November 2021.
Based on the larger-than-expected decline for November, the NRF lowered its outlook for December 2022 and the first four months of 2023. They are expecting when the final tally is completed for 2022 that imports will be down marginally to 25.7 million TEU from the 2021 record of 25.8 million TEU. This comes despite the retailing group's belief that retail sales were on track to meet NRF's forecast of six to eight percent growth over 2021 for both the full year and the holiday season.
"After nearly three years of COVID-19's impact on global trade and consumer demand, import patterns appear to be returning to what was normal prior to 2020," said Ben Hackett, Founder of Hackett Associates. "Nonetheless, as inflation eases and consumer spending returns, we project that growth will slowly return going into the second half of the year (2023)."
The NRF, however, is lowering its forecast for the first quarter of 2023 by an additional 4.6 percent versus its forecast a month ago. They don't believe imports will regain the two million TEU mark before May 2023. For the first quarter, they are forecasting 5.29 million TEU, which represents a 20 percent decline over the 6.61 million TEU in the first quarter of 2022. It is also forecast to be down nearly 15 percent over the first quarter of 2021. They are calling for the first four months to range from a low of 1.63 million TEUs in February to highs of over 1.9 million in January and April.
The outlook tracks with similar forecasts from many of the largest container carriers. Analysts have not seen signs of the potential surge before the Chinese New Year holiday later this month while the shipping lines have forecast that the slowdowns will continue through the first quarter of the year.
Ports are using this time to catch up and prepare for the future but carriers are seeing continued declines in spot rates that are expected to roll over into possible pressure on their long-term contracts with shippers. With volumes expected to continue to decline, many analysts are predicting that the carriers will have further pressure from large amounts of overcapacity on key trade routes even before newbuilds begin to enter the market later in 2023.