Research Vessel Falls Over in Scottish Dry Dock with Many Injured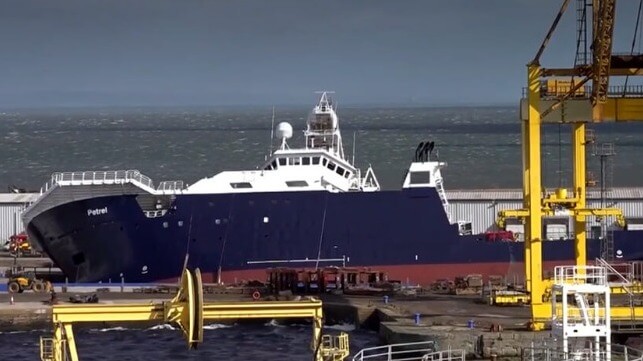 Multiple Scottish rescue services are responding to what is being deemed a "major incident" after a research vessel once owned by the billionaire co-founder of Microsoft Paul Allen fell onto its side in a dry dock accident in Leith, Scotland. Police and rescue services are asking the public to remain clear of the area reporting that more than 30 vehicles and air ambulances are tending to the injured.
At last report, 33 people have been treated so far with some indications that at least 50 people were working aboard the vessel this morning when it fell over coming to rest at a precarious 45-degree angle on its starboard side against the wall of the dry dock and shipyard. The Scottish Ambulance Service is reporting that 21 people were transported to three regional hospitals with the emergency room at the Royal Infirmary of Edinburgh asking individuals to remain away from the hospital unless it was an emergency, as they were awaiting additional casualties. A further 12 individuals have been treated on scene with the rescue effort still underway.
Calls to the police and ambulance service came in shortly after 8:30 a.m. on Wednesday, March 22. The Scottish Ambulance Service reports that it has dispatched 12 ambulances, an air ambulance, three trauma teams, a special operations team, three paramedic response units, and three patient transport vehicles, which were joined by the police and fire services. HM Coastguard is also on the scene.
March 22, 2023
Leith council Adam McVey said in a Tweet that the vessel became "dislodged in strong wind," describing the incident as terrifying. Weather service warnings had been issued for high-speed gusts predicted to reach as high as 75 mph in parts of Scotland along with large waves and coastal spray. Local media reports are citing wind speeds of 38 mph in Edinburgh this morning with a gust recorded at 44 mph shortly after the incident.
Built in 2003, the research and survey vessel RV Petrel was in the Imperial Dry Dock in Leith. Reports indicate that the vessel, which was involved in the discovery of the wreck of the World War II cruiser USS Indianapolis as well as other significant discoveries, had been laid-up in Scotland since 2020 due to the pandemic. Allen died in 2018 and the vessel was reported sold in 2022 to the United States Naval Facilities Engineering and Expeditionary Warfare Center and operated by Oceaneering International.
The vessel is 250 feet long and 3,300 gross tons with accommodations for 30 crew and researchers. It had recently entered the dry dock and was high and dry at the time of the incident. Reports are that as many as 50 contractors were working aboard the vessel.