Report: U.S. Offshore Wind Ports Will Need $36B in Financing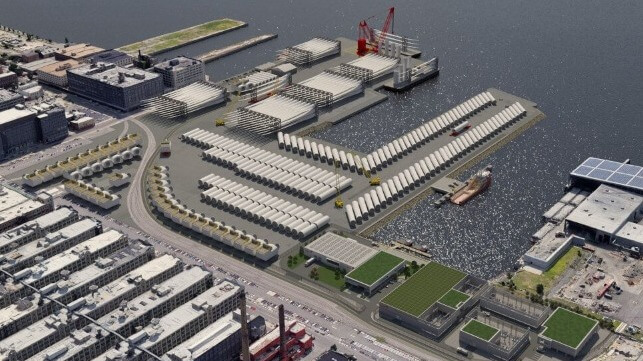 The nascent U.S offshore wind industry is grappling with uncertainty caused by rising costs, but it may be that port infrastructure could be the most significant bottleneck for the sector's advancement, according to the Business Network for Offshore Wind (BNOW).
In a new white paper, BNOW contends that the U.S must invest a staggering $36 billion over the next decade to address the country's offshore wind port infrastructure gap. These funds would flow to no less than 110 port sites across the East Coast, West Coast and the Gulf of Mexico to support the full buildout of the offshore wind industry.
The group suggests that without a concerted effort to change the trajectory of offshore wind port investment, the U.S is likely to fall short of the Biden administration's short term goal of 30 GW by 2030 - as well as long term ambitions to deploy 110 GW by 2050. Government funding and policy support will be needed to incentivize port operators to bridge the gap.
The federal government has already been working in this direction, but at a fraction of the scale BNOW recommends. In an effort to meet industry needs, the U.S has committed more than $2.5 billion to 35 new offshore wind port projects over the last five years. According to BNOW, most of the projects under development are now facing financing gaps due to rising construction costs, which have risen by about 30 to 40 percent over the last three years.
As the industry scales up and expands to new regions of the U.S., BNOW believes it will need up to 84 more port infrastructure projects to support service and installation. The price tag for filling the capital gap for these ports (accounting for inflation) would come to an estimated $36 billion.
The need for more wind ports may be tempered by changing economic realities. The U.S offshore wind industry is grappling with steep material cost hikes and rising interest rates, and multiple developers have raised concerns about the viability of the projects they pursued with ambition just a few years ago. Ørsted - the biggest offshore wind developer in the world - has raised the possibility that it might pull out of some of its U.S. projects altogether.