Report: Pentagon Has Concerns About Offshore Wind off Mid-Atlantic
The U.S. Navy and U.S. Air Force have serious misgivings about the potential siting of offshore wind farms along the mid-Atlantic coastline, according to new reports.
Fox and Bloomberg have both confirmed that the Pentagon believes that several proposed wind lease areas off the mid-Atlantic coast would interfere with essential military activities, with negative repercussions for national security. A chart showing the areas in conflict has reportedly circled among wind industry executives for months, and shows that DoD believes that four out of six call areas are "highly problematic" for key operations - in particular, flight training.
"The initial assessment performed by DoD found complicated compatibility challenges with wind turbines near Navy and Air Force training," a Pentagon spokesperson told Fox. "The DoD continues to work with the Bureau of Ocean Energy Management, industry, and other stakeholders to identify the best locations for development."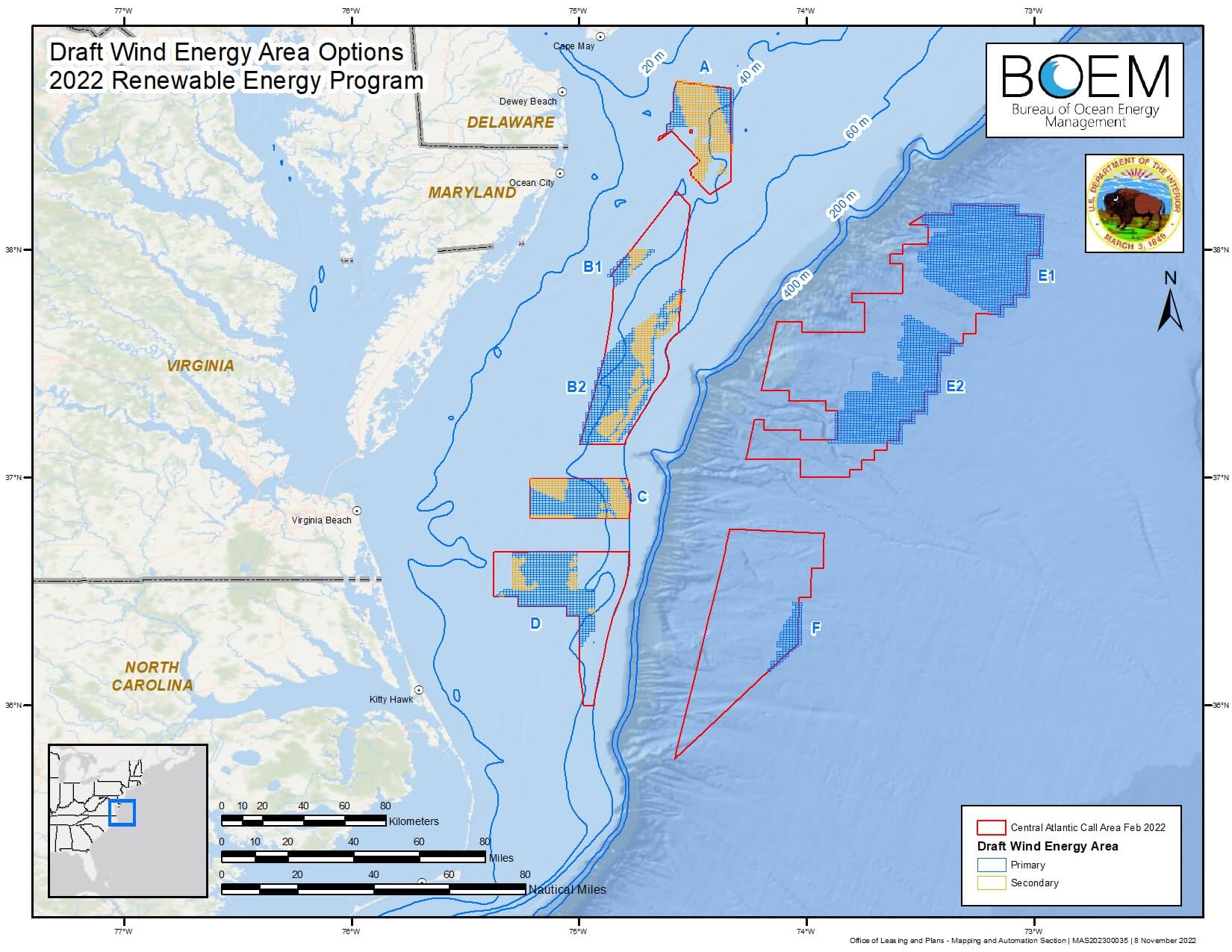 Draft Wind Energy Areas, orange and blue; call areas outlined in red (BOEM)
Out of the six original call areas for the mid-Atlantic, BOEM has propose eight draft Wind Energy Areas for leasing off North Carolina, Virginia, Maryland and Delaware. Taken together, they cover about 1.7 million acres of federal waters, though BOEM says that they could be further reduced after consultations with stakeholders. If auctioned and developed, they would result in massive new infrastructure installations next to some of the largest military bases in the world, including Naval Station Norfolk, Naval Weapons Station Yorktown and Oceana Naval Air Station.
In a statement to reNews, BOEM emphasized that it has a longstanding working relationship with the Pentagon, and that "together we have successfully deconflicted and identified areas that have resulted in 27 leases" to date. This includes the finalized lease areas off California, which were contested by the U.S. Navy for years. BOEM expressed confidence that this collaboration would continue for the proposed sites off the mid-Atlantic coast.
"BOEM is in the process of analyzing and incorporating DoD's compatibility assessment into the spatial model being used to inform identification of final Wind Energy Areas in the Central Atlantic," the agency said.
The proposed lease areas are part of the Biden administration's ambitious plan to support installation of 30 GW of offshore wind in federal waters by 2030.