Report: Lack of Shipyard Capacity Could Impact Decarbonization Retrofits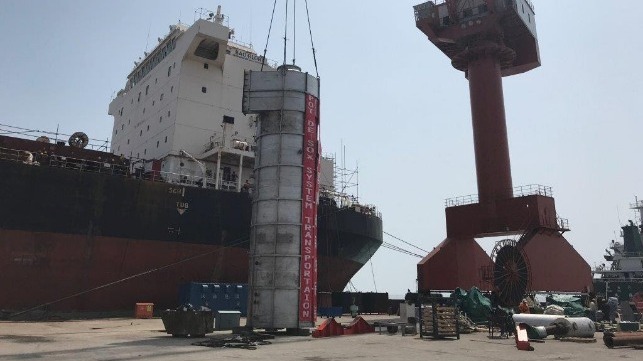 A new report from Lloyd's Register warns that the maritime industry could experience a lack of shipyard capacity and capability as it works to retrofit ships to meet the emerging emissions regulations as part of the drive to decarbonization. They are warning that a shortage of repair yards with experience in conversions could impact the ability of the industry to meet its decarbonization goals by converting existing ships to use the range of emerging new technologies.
A broad range of projects is underway in sectors of the industry developing conversion technologies for the current, in-service fleet. Engine manufacturers such as Wartsila and MAN are developing the systems required to convert existing propulsion plants to alternative green fuels, while others are looking at new filtering technology for exhausts for carbon capture or to reduce methane slip. Other shipowners are already moving to install batteries and exploring the use of hydrogen fuel cells on their vessels.
LR's Engine Retrofit Report has identified that retrofitting a significant number of the 9,000 and 12,900 large merchant vessels estimated to be part of the global fleet in 2030, could rapidly accelerate the maritime energy transition. However, it warns that these ambitions could be jeopardized by the limited number of repair yards currently capable of performing such conversions.
"Decarbonizing the existing fleet is crucial for reducing the maritime industry's greenhouse gas emissions. Without significant progress in this area, there could be as many as 20,000 commercial vessels relying on fossil fuels by 2050," said Claudene Sharpe-Patel, Technology Director, Lloyd's Register. She notes the critical need to focus on issues such as yard capacity, conversion capability, and system integration which will be required to install future fuel technologies on the in-service fleet.
The study, which analyzed the state of engine retrofit demand, capacity, and uptake, points to the new skills in naval architecture, electrical engineering, and fuel handling which will be required if the industry is to use retrofitting as an effective tool to accelerate decarbonization. While they believe the business case is developing for segments of the industry to pursue retrofits, LR points to the challenges and need for experience in conversions that will be required to use the new technologies.
One of the key challenges with retrofits identified in the report is system integration. They point to significant issues such as accommodating larger fuel tanks, space needs for fuel preparation equipment, and ensuring safety measures are in place. Issues such as these they point out are creating obstacles to rapidly retrofitting the existing fossil fuel fleet.
LR determines the key factors influencing the size of the market and the timing of retrofits. They believe this will include the date by which shipping begins building only zero-emission vessels, as well as the age at which owners or operators decide to retrofit their vessels.
The report concludes that while many owners are likely factoring retrofitting into their planning, repair yard capability, and capacity concerns could thwart the uptake of alternative fuel technology onboard existing ships.