Report: Iran is Converting Two Panamax Boxships Into "Drone Carriers"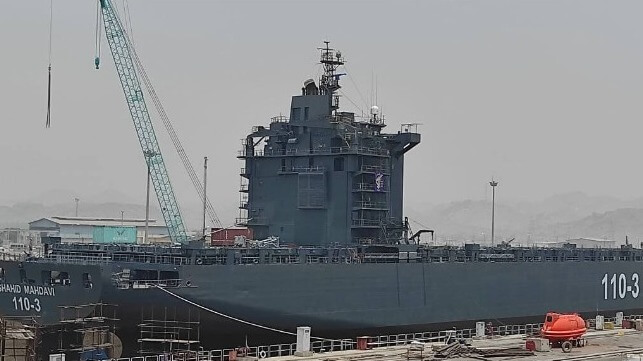 The Iranian Islamic Revolutionary Guard Corps' boxship-to-warship conversion project appears to be aimed at producing drone carriers, according to Iranian social media and naval analyst H.I. Sutton.
Last year, open-source intelligence analysts obtained a photo of what appeared to be a new IRGC "base ship" in shipyard at Bandar Abbas. The vessel's deckhouse and hull were painted in a coat of haze gray, with gun emplacements on the stern - but her lines were identical to a Panamax boxship belonging to sanctioned Iranian shipping line IRISL. It appeared that a disused container ship had been transferred to the IRGC for conversion into a mobile military logistics platform.
However, the details may differ slightly. New photos analyzed by H.I. Sutton appear to indicate that the ship is being fitted with a giant, overhanging deck on her port side, like an exaggerated version of an aircraft carrier's flight deck. The wing-shaped appendage appears to increase the beam of the ship by about one third, on one side only.
While this may not quite be an aircraft carrier, neither does it appear to be a "base ship." Iranian local media accounts suggest that the vessel will become something unique: a storage and launch platform for Iran's militarized drones, reports USNI News.
It also appears that the IRGC will be converting two boxships to a drone carrier configuration. One has been reported as the former 3,300 TEU boxship Sarvin - currently listed in Equasis as "in repair/conversion" - and Sutton has identified the other as a sister ship, the Perarin. Both were last seen on AIS in 2019, lying at anchor off Bandar Abbas.
Iran has invested in drone warfare for decades, and its capabilities are on demonstration on a daily basis in Ukraine, where Russia is using hundreds of imported Iranian Shahed-136 "suicide" drones to bombard the nation's power grid. Iran's drone systems have also been used prolifically by its proxy forces in the Middle East, notably Yemen's Houthi rebels.
On Saturday, in a preview of how an Iranian "drone carrier" might operate in conflict, the Iranian Navy test-launched an Ababil suicide drone from the deck of the landing ship IRIS Lavan. The drone flew inland to a target site and struck what appeared to be a mockup of Israel's Eliat Naval Base.