Repairs to HMS Prince of Wales' Propulsion Will Take Until Spring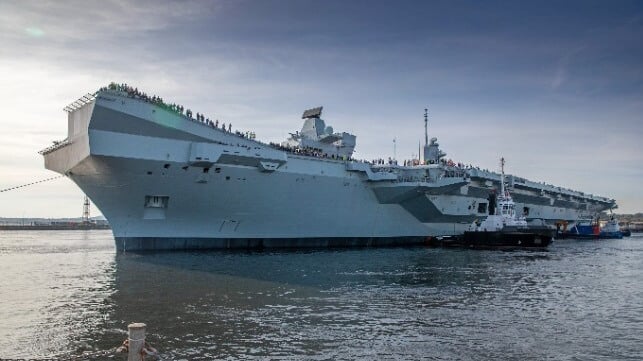 The new Royal Navy carrier HMS Prince of Wales will be out of service for a total of about half a year for repairs to her propulsion system, a spokesman for the service told the BBC - after which she will enter another maintenance period.
HMS Prince of Wales is the second of the UK's two new jump-ramp carriers, after HMS Queen Elizabeth. They are the first full-fledged British carriers in a generation and have allowed the Royal Navy to make a long-sought return to carrier aviation alongside its American and French peers.
Prince of Wales was laid down in 2011 and made her maiden voyage in 2019. She was built in blocks by several yards around the UK, with final assembly completed at the Rosyth Dockyard on the Firth of Forth. However, her operational debut has been marred by breakdowns. She sustained a flooding incident in May 2020 and another in October 2020, damaging her electrical systems. The repairs took eight months and forced the cancellation of a training voyage to the United States. She was finally declared fully operational in October 2021, in time to take on the role of flagship for NATO's Maritime High Readiness Force in January 2022.
However, she ran into technical trouble once again in the fall. On August 28, she set out from Portsmouth on a voyage to the United States, which the Royal Navy described as a "landmark mission to shape the future of stealth jet and drone operations." The carrier was designed to work with the Lockheed F-35B, the jump-jet version of the American stealth fighter, and Prince of Wales was scheduled to work out flight operations in a series of exercises with her U.S. counterparts.
There was great fanfare as she departed Portsmouth at the head of a task force, including the frigate HMS Richmond, tanker RFA Tideforce and an air group of helicopters and drones. However, the voyage was cut short almost immediately. She encountered mechanical problems as she passed the Isle of Wight and was forced to return to a sheltered bay for inspections. Divers found "significant damage to the [starboard] shaft and propeller and some superficial damage to the rudder." The root cause was the failure of an external coupling that connected the internal shaft to the external shaft, according to industry news outlet Navy Lookout.
After a series of extended delays as she prepared for a transit, Prince of Wales finally arrived at the Rosyth Dockyard for repairs on October 12, 2022. This week, a spokesperson for the Royal Navy told the BBC that "repairs to HMS Prince of Wales' starboard shaft are expected to be completed by spring 2023." After the repairs to the shaft are finished, the warship will head back to her home base at Portsmouth, where she will begin a "pre-planned maintenance period."