Redevelopment Plan Released for Iconic Ocean Liner SS United States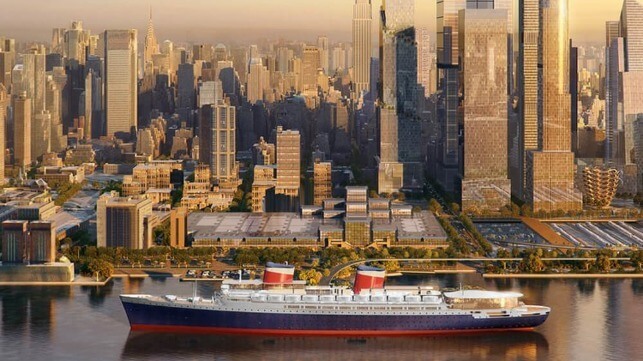 A full design and redevelopment plan for the famed ocean liner the SS United States was unveiled by the non-profit owners of the vessel working in conjunction with a New York-based real estate developer and leading hotel operator. Five years after entering into an exclusive option agreement with real estate development firm RXR, the SS United States Conservancy says it has completed an extensive planning effort and they are now seeking state and local interest from New York or other potential cities to become the location for the project.
The plan would repurpose the legendary ocean liner as a unique, mixed-use destination, including a 1,000-room hotel, numerous food and beverage destinations, multiple event venues, acres of public green space, and a museum. With the key planning completed, the nonprofit organization and its development team report they are prepared to donate the ship and the design and engineering work completed to date to expedite progress in securing a prime location for the vessel's revitalization.
"Our development partners have embraced the patriotic and economic significance of this monumental project," said Susan Gibbs, president of the SS United States Conservancy and granddaughter of the vessel's famed naval architect William Francis Gibbs. "Through their extensive due diligence, they have created a bold and exciting plan that preserves the ship's history and activates the vessel's commercial potential."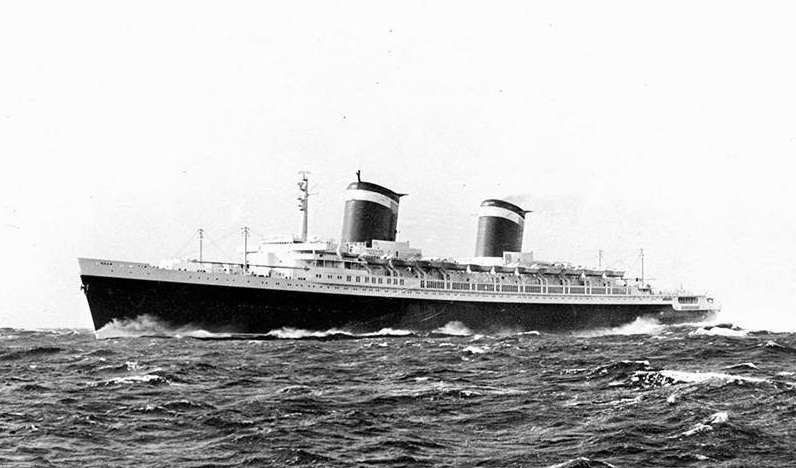 Liner at speed during her 1952 trials when it is rumored she went over 40 knots
The ocean liner was designed to be the zenith of William Francis Gibbs' career and the pinnacle of commercial passenger ship designs. Using the same principles applied to a broad range of projects for the U.S. Navy, including many critical World War II warships, Gibbs created a fast and sleek ocean liner. A product of the emerging Cold War in the years after World War II, the U.S. Navy added features to her design including the capability to convert into a troopship that could carry 14,000 troops 10,000 miles without refueling.
Built by Newport News Shipbuilding and Drydock Company in Virginia, it is rumored that during her top secret speed trials in 1952, the 990-foot-long ocean liner reached an unheard of speed of over 40 knots. On her maiden voyage, she would shatter the transatlantic speed record for commercial ships averaging approximately 35 knots, a record that remains unbeaten by a large ocean liner.
The United States maintained regular Atlantic service to France and England and later added calls in Germany through the 1950s and into the 1960s often carrying world leaders, political figures, and celebrities, as well as business leaders, tourists, and immigrants. She would operate a limited number of cruises before competition from the jet airplane and declining U.S. government subsidies and revenues from transporting members of the military caused the liner to be laid up in November 1969. She had operated for just 17 and a half years.
The U.S. Government acquired the ship before selling her at the end of the 1970s and a series of developers had different plans to return her to service. She was acquired by Norwegian Cruise Line in 2003 but plans to restore her never progressed and in February 2011 she was acquired by the non-profit SS United States Conservancy. Crystal Cruises briefly in 2016 explored rebuilding her as a modern cruise ship and after withdrawing later that year, the Conservancy has been pursuing redevelopment as a static attraction.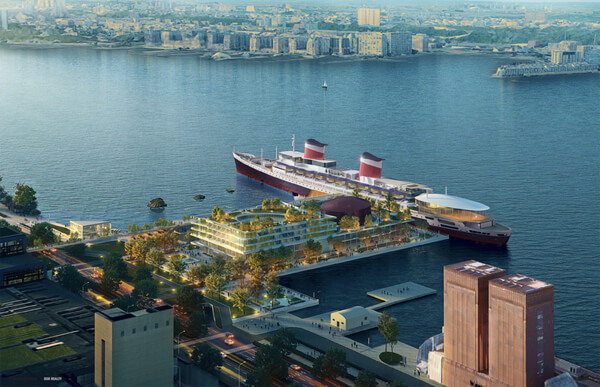 The plan envisions her as a hotel and attraction in New York or other major cities such as Miami
RXR, a New York-based real estate development firm brought its expertise to the project having led numerous real estate projects including the redevelopment of Pier 57 on Manhattan's West Side. MCR, a hotel management company reports it is the third-largest hotel owner-operator in the United States and in addition to a broad portfolio of properties operates unique hotels such as the conversion of Eero Saarinen's landmark 1962 TWA Flight Center at JFK Airport in New York into a hotel.
Working with the Conservancy, RXR and MCR developed a conceptual plan for a privately funded, commercial redevelopment of the vessel. They prepared full schematic design drawings and undertook extensive engineering and construction feasibility diligence in consultation with U.S. shipyards. They also conducted a financial analysis to demonstrate the project's commercial viability, and an assessment of the permitting and regulatory requirements to advance the redevelopment program. The project diligence team also included Gibbs & Cox, the vessel's original design firm, Perkins Eastman, HLW architects, and local land use and regulatory counsel.
The release of a redevelopment plan comes at a time when the United States is facing new legal and financial challenges. The Conservancy is in a legal dispute over the rent for the Philadelphia berth where the ship has been sitting looking forlorn and forgotten since 1996. The ship faces possible eviction from her current pier with the Conservancy presently in litigation on the matter, and a trial date slated for early December.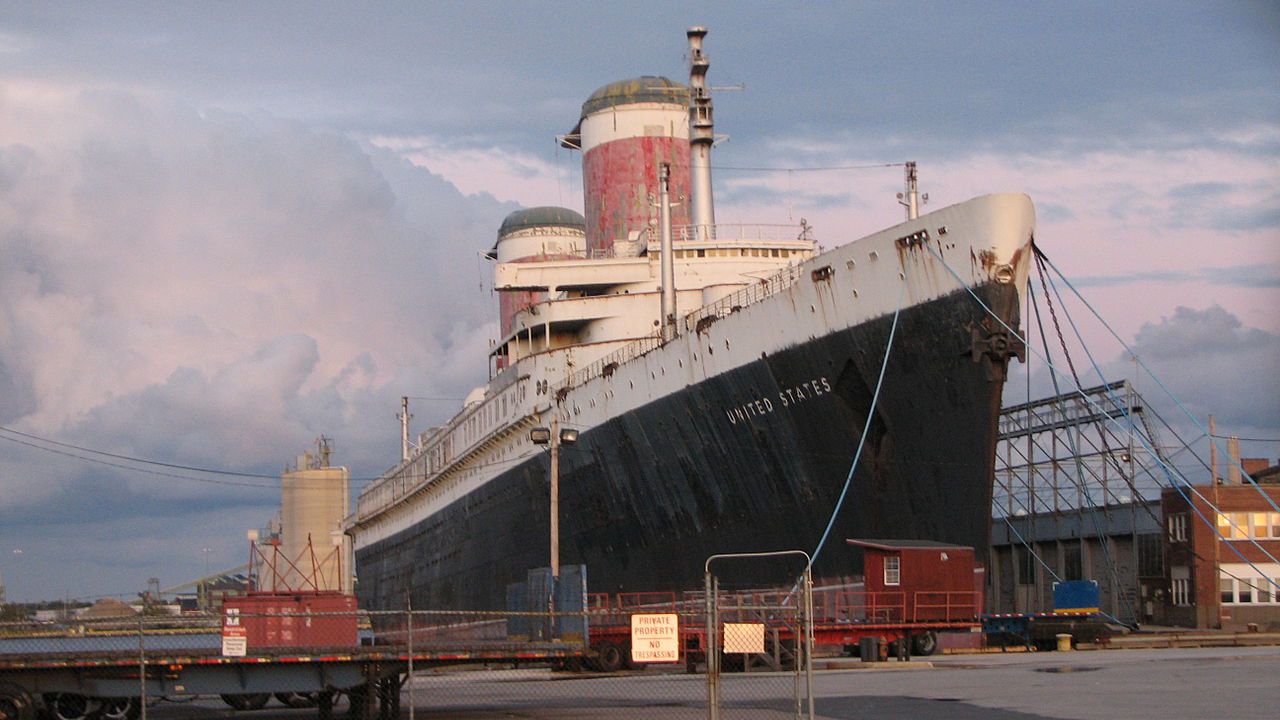 The liner faces eviction from the Philadelphia pier where she has been waiting for a future since 1996