Record Tanker Arrival in Gulf of Mexico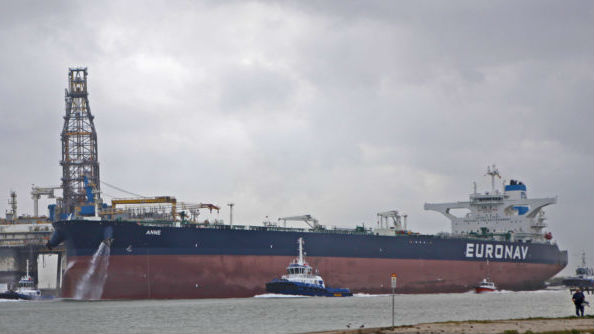 The largest oil tanker to ever call at a Gulf of Mexico port arrived in the Port Corpus Christi on Friday.
The VLCC Anne docked at the Oxy Ingleside Energy Center export terminal, the first crude oil export facility in the U.S. to receive such a large vessel. Occidental Petroleum Corporation is planning to load VLCCs regularly in the future.
Anne is owned by the Belgium-based Euronav, is 1,093-foot-long and capable of holding over two million barrels of oil. When fully laden a VLCC requires a draft of 66 feet. Ship channel depth at Port Corpus Christi is at 47 feet so the vessel must be partially loaded, with an accompanying vessel to fill the remaining cargo once offshore.
Current VLCC operations require multiple smaller vessels to transport product offshore for loading, so loading VLCCs at Occidental's export terminal is expected to provide significant cost and time savings.
When the U.S. oil export restrictions were lifted at the end of 2015 the first export cargo of U.S. crude oil in nearly forty years sailed aboard the tanker, Theo T, from the South Texas port. Further benchmarking the U.S. crude export trend, a single vessel load record was set at Port Corpus Christi in April 2017, when 930,000 barrels of crude oil was loaded to the Suezmax class Cap Romuald.
Permian Basin crude is being exported Asia, Europe and elsewhere around the world, and Occidental's export facility is well positioned to serve the Permian, which is the largest and fastest-growing basin in the U.S.
Port Corpus Christi is in the midst of a 10-year, $1 billion capital investment program. A major component of the program includes the Corpus Christi Ship Channel deepening and widening project. This project will deepen the Corpus Christi Ship Channel depth to 54 feet, expand its width to 530 feet and instal barge shelves along the channel. Additionally, construction of the longest cable-stayed bridge in the Western Hemisphere is underway to replace the aging Corpus Christi Harbor Bridge. Scheduled for completion in 2020, the bridge will provide increased air draft clearance to 205 feet.