Putin Pledges More Backing for Arctic Shipping Route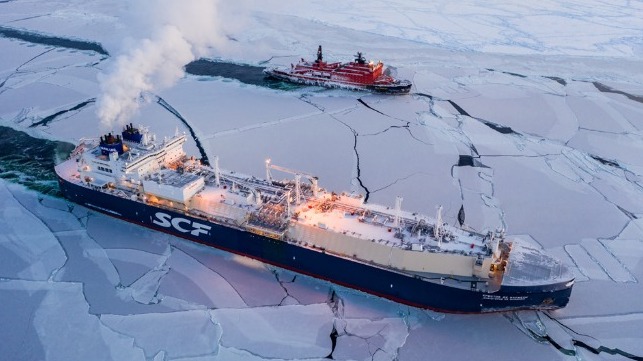 In a meeting with senior government officials last week, Russian President Vladimir Putin pledged further support for shipping along Russia's Arctic coastline, which has historically ranked high on his list of priorities.
During the meeting, Minister for Development of the Russian Far East and Arctic Alexei Chekunkov said the Northern Sea Route (NSR) is gaining traction with the export of oil, LNG and metals to world markets.
Freight traffic along the NSR has increased from four million tons in 2014 to 34 million tons in 2022, surpassing the Soviet record five-fold. To ensure the NSR will handle growing freight volumes in coming years, Chekunkov said his ministry has already approved a uniform plan for the development of the route until 2035.
The first step of the plan is to have binding agreements with Russian companies operating in the Arctic to achieve government-mandated tonnage targets. These include LNG producer NOVATEK, Vostok Oil and Gazprom Neft, among others. Under the agreements, these companies alone must ship through the NSR at least 30 million tons of cargo this year, no less than 71 million tons in 2024 and over 190 million tons by 2030.
"In order to promote transport along the NSR within Russia, we have launched, in conjunction with Rosatomflot, regular coastal service between Murmansk and Kamchatka in 2022 with subsidized rates. In this year, there will be three passages, and the number of ports of call have gone up from four to 11, with the route extending to Vladivostok," elaborated Chekunkov.
However, expansion of the NSR means extra investment in transport infrastructure. The Kremlin has stated it will invest over $22 billion until 2035. The funds will go into creating and upgrading fourteen ports and terminals from Murmansk to Vladivostok. Some of these include LNG transshipment terminals in Murmansk and Kamchatka, the Lavna coal terminal and the Port of Tuloma for the transshipment of fertilizers.
In addition, the Kremlin revealed it has approved an order for 153 new icebreaking and ice-class transport vessels for use in the NSR.