Port of Tacoma Speeds Up Net-Zero GHG Deadline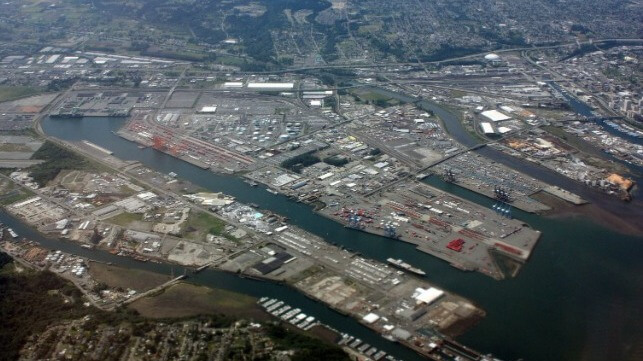 The Port of Tacoma has sped up its climate ambitions: it has already signed on to a 2050 target, along with its neighbors in Seattle and Vancouver, but it is doubling down with a pledge to get to net-zero ten years earlier.
The port commission voted unanimously on Tuesday to get the port's own greenhouse gas emissions down to net zero by 2040. The pledge covers Scope 1 and 2 emissions - that is, emissions from the port's own buildings and vehicles, as well as the electricity purchased for port facilities. While the plan is ambitious, the port acknowledges that it does not include the largest and most difficult category of greenhouse gas sources - the third-party emissions in Scope 3, dominated by customer-owned ships and trucks.
"The port takes seriously our commitment to the environment and clean air," said Deanna Keller, Port of Tacoma commission president. "Accelerating our net zero emission target gives us an opportunity to demonstrate climate leadership and take action where we have direct control."
The Port of Tacoma plans to get across the decarbonization finish line by 2040 by investing in electric vehicles, swapping out natural gas for clean electricity in its buildings, and buying renewable fuels for its vehicle fleet. It is already investing millions in a central charging station to enable the switch to electric vehicles. The port could also buy offsets for any remaining emissions after making these improvements.
Tacoma is one-half of the Northwest Seaport Alliance, the regional management authority for container operations at Port of Seattle and Port of Tacoma. The NWSA is considering a similar goal to accelerate decarbonization to 2040, according to Port of Tacoma.
Since the Salish Sea has three large container ports in close proximity, regional collaboration on emissions has been a priority for years. In addition to shared targets for local air pollutants like PM, the ports of Seattle, Tacoma and Vancouver, B.C. have a shared goal to "facilitate collaboration toward commercialization and drive adoption of zero-emissions technology before 2050."