Port of Seattle Plans $340M Cruise Terminal Project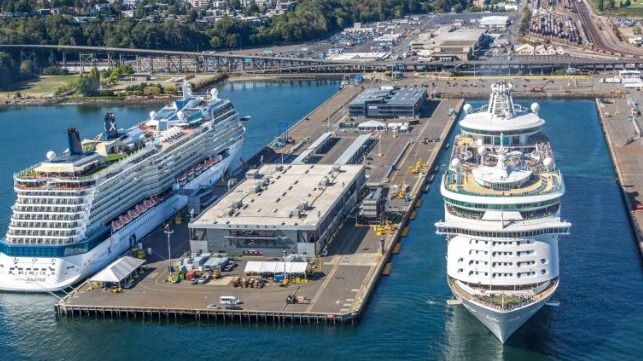 The Port of Seattle, Washington is considering a $340 million plan to add a new cruise terminal and invest in other waterfront improvements.
The port welcomed 1.1 million cruise passengers last year, the second year in a row that it has surpassed the one-million-passenger mark, and it is looking for room to accommodate more growth. According to the Puget Sound Business Journal, the port has been in conversation with Seattle's mayor about renovating its existing cruise terminals, adding one more, and making improvements to the waterfront, a plan that it calls Waterfront 2040.
"This continued growth points to a bright future for cruise in Seattle, and we are proud that each homeported cruise vessel brings approximately $2.7 million for our local economy. Through innovation and collaboration, we continue to work with our partners to make this the greenest port in the nation," said port commission president Courney Gregoire in a statement.
The port is ahead of all other cruise homeports on the West Coast for passenger volume, including Vancouver, B.C., which trails Seattle with about 900,000 passengers per year. Cruising generates about $500 million in revenue for local businesses, according to the port.
Next year, Seattle will host seven cruise lines and 11 vessels for a range of itineraries, almost all bound for Alaska via the Inside Passage. Royal Caribbean has announced that it will deploy the 4,200-passenger Ovation of the Seas to Seattle next year, the largest cruise ship ever home-ported in the city, and it will add a third vessel to its Seattle home-port schedule for the first time in 2020.